Adam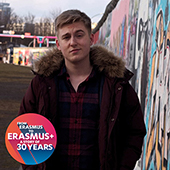 Name: Adam
Erasmus year: 2015-16
Destination: Humboldt-Universität zu Berlin, Germany
Moving to a new city in a new country and forcing myself to learn a new language has worked wonders for my confidence, independence and social skills. I now find myself eagerly putting myself in situations that would've terrified me a couple of years ago! I've made some of the closest friendships I've ever had and had countless experiences I will never forget, and I'm planning on moving back to Berlin as soon as possible. I haven't even graduated yet and having Erasmus+ on my CV has already opened doors, and is vital if you wish to work in an international setting!
Explore our other Thirty Faces of Erasmus+
Interested in going abroad as part of your Leicester degree? If you are currently studying an undergraduate degree at Leicester it may be possible to study abroad at an Erasmus+ destination. We have more than 100 exchange agreements with universities in 22 European countries, and send over 150 Leicester students to Europe each year. For more information, please email us at studyabroad@le.ac.uk.