Trauma-informed ESOL for refugees workshop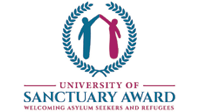 This workshop can be put on for organisations who wish to offer this training to its English language teachers of adult refugee-background students (whether this be ESOL, EAP or ESP). Teaching refugee-background students who may have experienced trauma can pose a real challenge, and increasing numbers of ESOL teachers are expressing interest in developing their knowledge, skills and confidence in this area so they can safety support their students with not only their language learning but also their wellbeing needs. This workshop is designed to meet these teachers' needs.
Aims of the workshop
Participants will learn about what refugee trauma is and how it typically presents in the ESOL classroom. They will develop an understanding of useful trauma-informed pedagogical strategies and apply these to case studies. They will learn about what Post Traumatic Growth (PTG) is, and explore useful strategies for facilitating such growth in the ESOL classroom.
Bespoke courses
The Sanctuary Seekers' Unit can also develop an adapted version of this workshop to suit similar educational contexts, and individuals who have non-teaching roles within these contexts. Please outline any additional requirements for your organisation in the enquiry form.
Key facts
Dates
Please specify the dates you have in mind in the enquiry form.
Length of workshop
90 minutes.
Number of participants
A maximum of 30 participants is ideal.
Delivery mode
Online or face-to-face (at your institution or at the University of Leicester).
Cost
£200 for universities/colleges/adult education providers*
Free for voluntary sector organisations (when the trainer has capacity)*
* Plus any necessary travel/accommodation expenses, where the workshop is delivered face-to-face.
N.B. 100% of this workshop fee will be fed back into the University of Leicester's Sanctuary Seekers' Unit's work to support refugee-background students.
What's included in the workshop fee?
A pre-workshop meeting to discuss your organisation's context and any specific requirements for this workshop.
A 90-minute workshop for your organisation.