Volatile metabolomics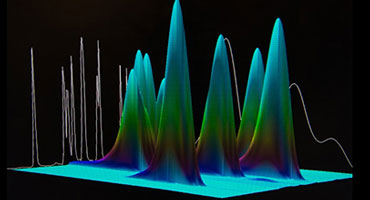 Volatile metabolomics or volatolomics is the study of the levels of volatile organic compounds (VOCs) emitted from a biological system and examining how altered metabolism can affect their makeup. Organisms emit hundreds of unique VOCs which can be measured from a large and diverse range of samples including blood, sputum, urine, faeces, breath skin and saliva.
We are interested in improving existing diagnostic approaches using VOC detection, for example developing micro-sampling assays to assist in paediatric or animal model sampling as well as developing novel diagnostics via the non-invasive but less traditionally exploited samples of breath, skin and saliva.
We use a range of chromatography and mass spectrometric techniques to allow the detection and quantitation of these complex VOC mixtures to improve existing clinical diagnostics and forensic applications.
In particular, we are leading the way on:
The application of multi-dimensional chromatographic methods to large breath patient studies.
Forensic taphonomy.
Assays and application for paediatric sampling and analysis.
Selected publications
"Breath Analysis by Two-dimensional Gas Chromatography with Dual Flame Ionisation and Mass Spectrometric Detection - Method Optimisation and Integration Within a Large-scale Clinical Study", M. J. Wilde et al., J. Chromatogr. A 1594, 160-172 (2019).
"Assessment of Breath Volatile Organic Compounds in Acute Cardiorespiratory Breathlessness: a Protocol Describing a Prospective Real-world Observational Study", W. Ibrahim et al., BMJ Open 9, e025486 (2019).
"Quantitation of Salbutamol Using Micro-volume Blood Sampling - Applications to Exacerbations of Pediatric Asthma", Cordell, R. L. et al., J. Asthma 55, 1205-1213 (2018).