CAMEo Cuts
CAMEo Cuts is an occasional paper series that showcases reflections on cultural and media economies, written by CAMEo researchers, partners, policy-makers and cultural and media practitioners. Contributions should aim to be short, accessible and engaging, and appealing to the widest academic and non-academic audiences. We always welcome new ideas and contributors – if you would like to propose an article for inclusion in the Cuts series please email us.
Each 'Cut' is available in pdf format here – and please do email us if you would like to receive hard copies.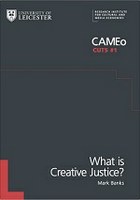 CAMEo Cuts #1
What is Creative Justice?
Mark Banks
This first issue of CAMEo Cuts summarises observations from Mark Banks' recent book 'Creative Justice' (2017). The aim of the book is to consider the various sociological approaches taken to studying work and education in the cultural industries. It also suggests a new framework for tackling some of the inequalities and injustices occasioned by such work. This summary outlines three concepts – 'objective respect', 'parity of participation' and 'reduction of harms' – which might help us to better focus on the issue of 'creative justice', and how best to achieve it.
---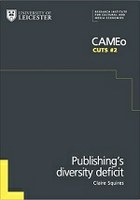 CAMEo Cuts #2
Publishing's Diversity Deficit
Claire Squires
The second CAMEo Cuts examines questions around diversity within the UK's publishing industry. With a specific focus on BAME (Black, Asian and Minority Ethnic) participation as publishers, authors, readers, or featuring within books, Claire Squires comments on how UK publishing presents a 'diversity deficit'. This diversity deficit, despite a raft of diversity initiatives, suggests systemic and institutionalised practices of implicit and explicit discrimination within the literary economy.
---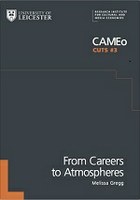 CAMEo Cuts #3
From Careers to Atmospheres
Melissa Gregg
The third issue of CAMEO Cuts examines the changing social relations of time and self-management at work. Melissa Gregg shows how the dispersed organization increasingly relies on technologies and platforms that aim to improve personal productivity and efficiency, but tend to do so at the expense of collectivity. She explores how it might be possible to create new forms of elective association – 'productive atmospheres' – based on shared resources and care rather than metrics of individual performance. This forms the argument of her forthcoming book Counterproductive: Time management after the organization (Duke University Press).
---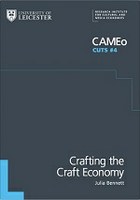 CAMEo Cuts #4
Crafting the Craft Economy
Julia Bennett
In the fourth issue of CAMEo Cuts, Julia Bennett explores the UK craft economy. She begins with a reflection on the rich and diverse history of craft in London, and outlines some of the challenges now being faced by its contemporary makers and designers. In the second part, she outlines the key role played by the Crafts Council in supporting production, education and innovation in the crafts sector, at the local, regional and national level.
---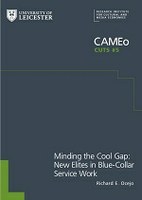 CAMEo Cuts #5
Minding the Cool Gap: New Elites in Blue-Collar Service Work
Richard E. Ocejo
In this edition of CAMEo Cuts, Richard E. Ocejo summarises insights from his recent book Masters of Craft: Old Jobs in the New Urban Economy (Princeton University Press, 2017). Based on an extensive ethnography of traditionally 'blue-collar' service trades – such as barbering, distilling, butchering and bar-keeping – his research shows how new cohorts of 'elite', middle-class producers and consumers are leading to the creation of new social distinctions and the rise of 'cool' service work. This essay outlines some of the social consequences for those who have traditionally occupied manual service trades – the socially disadvantaged and social minorities – when their jobs suddenly become 'cool'.
---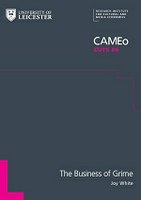 CAMEo Cuts #6
The Business of Grime
Joy White
This sixth edition of CAMEo Cuts focusses on the emerging economy of Grime music. The music industry is a significant economic sector that ought to provide earning opportunities for a wide variety of young people who have the necessary skills, interests and talents. And yet, this sector has some of the lowest diversity rates in terms of ethnicity and class. By contrast, Grime, and the wider urban music economy, can offer a multiplicity of routes into the creative and cultural industries for diverse and disadvantaged groups. From its London origins, Grime has expanded regionally through the Eskimo Dance and Sidewinder events, and from Lord of the Mics MC clashes to the nascent Grime Originals events, the Grime economy has a national (UK) and international reach. This Cuts explores how young people from less advantaged backgrounds use their passion for Grime music to create work within a music industry that is otherwise dominated by socially-privileged groups.
---
CAMEo Cuts #7
Independent Games and the Remaking of the Fringe
Mark Gibson
This issue of CAMEo Cuts offers a new take on the enduring idea of the cultural 'fringe'. The status of the fringe – as an edgy, heterodox and counter-cultural alternative to the mainstream – has long been seen as a source of new, avant-garde ideas, as well as political and social critique. For some critics, however, the now assumed absorption of independent and alternative culture into the mainstream, and the rapidity with which commercial organisations can seemingly commodify any kind of new rebellion or otherness, has rendered the possibility of a fringe or an 'outside' a romantic illusion. But is this really so? Taking the example of independent computer gaming, and based on research undertaken in Melbourne, Mark Gibson argues for the vital and enduring role played by creative computer games producers working at the margins, and the open-ended possibilities that still remain for making and remaking diverse and differentiated fringe cultures.
---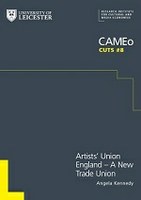 CAMEo Cuts #8
Artists' Union England – A New Trade Union
Angela Kennedy
The story of the emergence of a new trade union for artists – Artists' Union England – is the subject of this edition of CAMEo Cuts. As a founder member of the Union, artist Angela Kennedy offers an insight into the thinking and organisation that led to the formation of the AUE and outlines the substance of its primary concerns and campaigns. In times of austerity, and with artists struggling to make a fair and decent living, the need for workers' representation and organising in the arts sector is argued to be ever more necessary and urgent.
---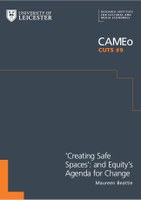 CAMEo Cuts #9
'Creating Safe Spaces': and Equity's Agenda for Change
Maureen Beattie
In this CAMEo Cut we consider the recent Agenda for Change report produced by Equity, the UK entertainment union. Following a wave of allegations of sexual abuse, harassment and misconduct in the entertainment industry, the Agenda for Change report focuses on ways of tackling a spectrum of bad behaviour that includes not just sexual misconduct, but also bullying and harassment more generally. Here we outline some key points from the Agenda for Change and then present extracts from a public lecture entitled 'Creating Safe Spaces' given by Maureen Beattie for CAMEo in September 2018.
---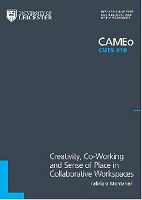 CAMEo Cuts #10
Creativity, Co-Working and Sense of Place in Collaborative Workspaces
Fabrizio Montanari
Collaborative spaces and co-working environments are the focus of this edition of CAMEo Cuts. Fabrizio Montanari reflects on findings from his current empirical research in the Emilia-Romagna region of Italy, where a rich network and ecosystem of coworking spaces, labs and incubators exists to provide workers with new opportunities for creatively collaborating, as well as working singly, or in more conventional productive modes. The detail of collaborative spaces reveals a mixed-use, mixed-economy of work environments where creating a dynamic community and sense of place may not be as straightforward or as predictable as is often imagined. His research reveals how diverse and complex the idea of 'collaborative' work can be, and suggests ways forward to obtaining a more nuanced understanding of the specifics of contemporary co-working.
---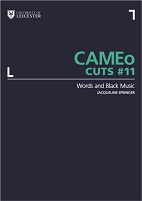 CAMEo Cuts #11
Words and Black Music
Jacqueline Springer
In this edition of CAMEo Cuts we interview the broadcast journalist Jacqueline Springer about her long career as a writer, presenter, consultant and curator of black music and black popular culture. From her earliest attempts to break into the media, through to her current roles making music programmes and documentaries for radio, and curating her own media platform Contemporary Black Music Culture, we explore the changing nature of media work and the problems faced in establishing a presence and voice for black culture in the UK media landscape.
---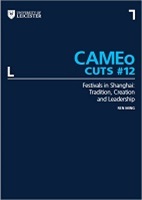 CAMEo Cuts #12
Festivals in Shanghai: Tradition, Creation and Leadership
Ren Ming
The changing nature of festivals and festival culture is the subject of this latest CAMEo Cut. Ren Ming explores the forces shaping the transformation of traditional Chinese public festivals and the growing influence of new modern festivals designed to showcase Shanghai as a global cultural city. How local residents of Shanghai respond to these changes, and governmental attempts to create new traditions around these festivals, is the focus of discussion.
---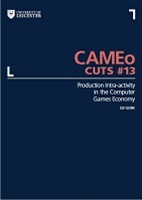 CAMEo Cuts #13
Production Intra-activity in the Computer Games Economy
Oz Gore
Spearheaded by computer games, interactive media forms have become a site of increasing cultural and commercial significance. In this issue of CAMEo Cuts, Oz Gore argues for a decentring of 'artefact interactivity', i.e. the interactive properties of games artefacts themselves and the latter's consequence in terms of media consumption, in favour of an examination of 'production intra-activity', i.e. how creative expression, game content, organisational concerns, and technological materialities get entangled within and throughout the process of producing interactive gameworlds. In particular, the piece argues that acknowledging 'production intra-activity' in interactive media means to recognise that mainstream cultural and policy discourses viewing interactive artefacts as mechanically manipulated and solely determined by market forces can be misleading. Although commercial rationalities are part of the story of media economies, the messier image afforded by 'production intra-activity' suggests that responsibility for what gets ex/included in cultural mediums is not necessarily the result of premeditated or self-contained decisions as, perhaps, regulatory and managerial discourses tend to imagine or prefer.
---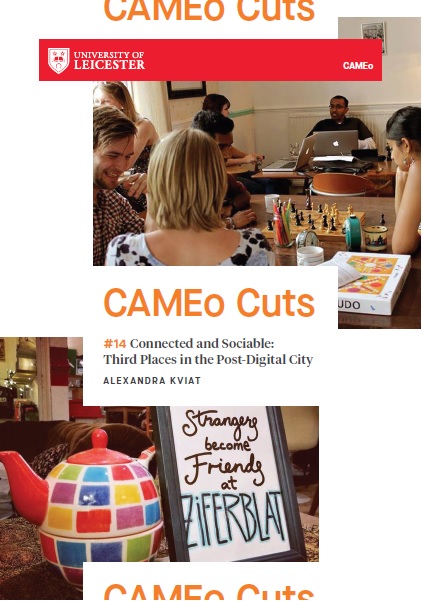 CAMEo Cuts #14
Connected and Sociable: Third Places in the Post-Digital City
Alexandra Kviat
The social and economic life of the 'post-digital city' is the focus of this CAMEo Cut. Alexandra Kviat examines the ways in which 'third places' – such as cafes, bars and bookstores – provide an intermediate, loosely defined space between work and leisure, where urban connections can take place, in both a digital and more 'analogue' social context. Yet, in challenging any strict separation between digital and analogue worlds, and by using the example of Ziferblat, the world's first 'pay-per-minute cafe', she shows how urban life and third place sociability is becoming both more hybrid and integrated, suggesting new ways of being and living in the post-digital city that move us beyond traditional conceptual binaries. Finally, in the ongoing wake of the COVID-19 pandemic, she also explores some of the implications for the kinds of urban culture and embedded sociability characteristic of pay-per-minute cafes and other, similarly shared, urban spaces.