Lukwesa Burak, Geographical Information Systems MSc, 1998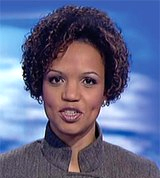 Born in Zambia, Lukwesa came to the UK aged 8. Now living locally with her husband and two children, it was during her undergraduate year abroad in Switzerland that the University caught her attention.
After graduating in 1998, Lukwesa used knowledge from her Master's degree studying Geographical Information Systems (GIS) to work for Transport for London where she helped with the development of the Jubilee line. From there, she took a job working for Leicester City Council, advising on how to reduce air pollution in the city. It was during this time that Lukwesa, as she puts it, 'fell into the media side of things', successfully applying for a Broadcast Assistant role. Prior to the BBC, Lukwesa has had a long career in television broadcasting, encompassing roles at Sky News, Al Jazeera and eNews Channel Africa.
Lukwesa said: "I often get into trouble with my producers for highlighting University of Leicester news so much, but I am passionate about all of the universities that I have attended because of what they have given me."
Lukwesa Burak is now BBC's Inside Out East Midlands current affairs programme. She presented her first edition of the programme on Monday 5 September 2016, which was a Brexit special focusing on the impact on the East Midlands. You can view the programme via BBC iPlayer.