Matthew Gallagher, BA Philosophy, 1989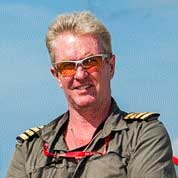 Matthew Gallagher graduated from the University in 1989 with a BA in Philosophy and has recently completed an around the world record flight in a Robinson R66 helicopter.
Matthew and fellow pilot Peter Wilson are the first people to fly around the world through the equatorial antipodes (Palembang, Indonesia and Neiva, Colombia) in a R66 helicopter.
The journey started and ended at Booker Airfield in Wycombe. They landed in 42 countries, five continents, and on an iceberg. The whole journey took the pair 121 days.
The trip was in aid of two charities (Save the Children and Motivation) and to help raise awareness for a better planet through sustainable development. During the journey, they visited a number of charitable organisations, outward-bound and research centres.
"These visits, and the trip as a whole, proved extremely thought provoking and insightful," explained Matthew.