Claire Gillingwater, BA Combined Studies, 1983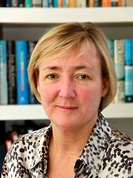 Claire Gillingwater has had a successful career as a management coach working with senior business executives across the UK, Europe, Middle and Far East. She helps them prepare for interviews with the media and deliver major presentations to their shareholders, financial institutions and internal audiences.
Claire was a journalist for 14 years and in 1997 decided to cross over the fence and become a media trainer instead. Her role, in terms of communications coaching, has grown into owning her own business working with associates who offer the same services.
In Claire's first term she chose to learn Italian and by the end of her first year was working and travelling around Italy for nearly three months. Aside from a love of Italian food, it also gave her tremendous confidence and a lifelong desire to travel more.
Claire explains how journalism has always been immensely competitive so in respect of that career she would advise any graduates to demonstrate commitment to it. ''I worked on Ripple, the Leicester Stage, Centre Radio and the occasional Saturday's work experience stint on the Leicester Mercury while at University and still it took me nearly a year of doing work experience around the country on various local newspapers before I got my traineeship with United News on the Sheffield Star.''
''So, be true to your self and if at first you don't succeed, do try again. In respect of setting up my own business in 2005, I remember a friend saying "Go for it Claire." It was a leap of faith, but I have never looked back.''
Whilst studying at University of Leicester Claire loved, Vicky Park, enjoying snakebites in Digby bar, the Clarendon pub, getting work on Centre Radio, learning Italian, being stage manager for Dr Peter Fawcett's production of Love's Labour's Lost.
Claire has a lasting image that returns whenever she thinks or hears about Leicester and that is the autumn sunshine and colours of Victoria Park as she attended a reception in the Charles Wilson building in her first term.