Michael Hutchinson, BA Geography (1967), and PGCE (1969)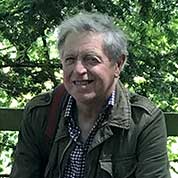 Michael Hutchinson studied at the University twice – first for his BA Geography, completed in 1967, and subsequently for his PGCE, which he received in 1969.
A student of the 60s, Michael described the most poignant moment of his time at Leicester – participating in a campaign to break a 'colour bar' at the Admiral Nelson Pub on London Road.
"A member of the University staff, Dipak Nandy, and his wife, Maggie, had been denied service purely on the grounds of his ethnicity" Michael said, "and as a result London Road was blocked by a huge protest demonstration. The brewery only lifted the colour bar after the Students' Union, supported by other Students' Unions, threatened to exclude its ales from the Students' Union Bar. I played only a small part in this but I am proud to have been involved."
Following a period of voluntary service overseas in Sudan, Michael began teaching Geography to students (up to A-Level) and examining GCSEs, working as a teacher for 21 years until 1990. He served on several school governing bodies during this time.
In 1990 Michael's career took a new path, as he moved into a Local Government role. He ultimately become Senior Complaints Officer, and led in the reform of their complaint procedures. Michael left the public sector in 2006 to set up his own delivery business, and worked as an exam invigilator in later years.
Michael has held a number of positions in councils throughout West Yorkshire. Stand-out achievements during his 23 years as a councillor include being closely involved in setting up an Archaeological Rescue Service, in the establishment of Opera North, and of the West Yorkshire Coalmining Museum (now The National Coalmining Museum for England). He also chaired the committee that reclaimed areas of dereliction which totalled the equivalent of an area equal to that within the M25.
Michael's commitment to environmental causes, which he has supported throughout his career, can also be seen in his current position as Vice Chair (formerly Chair) of Mirfield Community Partnership; a charity promoting local environmental improvement. Its work has included the protection and restoration of woodland that was being degraded by motor cyclists, the restoration of a sunken garden, and the maintenance of canal towing paths.
Retired since 2014, Michael is married with three children and one grandchild, residing in Mirfield.
"I am grateful for the support I have received from my family, teaching colleagues, employers, and the Mirfield electorate", said Michael. "In-so-far as I have been able to serve the community, I have done so largely in co-operation with others.
"My advice for today's students is to follow what they believe in and to campaign and live to make the world a better place than at present. Good luck - it certainly helped me!"