Tom Spurgin, English and History BA, 2013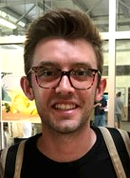 From presiding over Leicester University Chorus, to joining world-renowned Philharmonia Orchestra as their Audience Development Manager, Tom Spurgin's career has really taken off. And soon, Tom will be heading back to Leicester for a large-scale music community engagement project he has been leading on. The project, The Virtual Orchestra, presented by the Philharmonia Orchestra, comes to Leicester during October and November and offers an up-close experience of a symphony orchestra through virtual reality and immersive technology.
Tom said: "I actually met the Philharmonia as a student in Leicester thanks to the partnership with the University, and they offered some light work experience and workshop opportunities during my time as a student. I've since worked in orchestras and music charities in London.
"The Virtual Orchestra project uses Philharmonia Orchestra's digital assets (including virtual reality and large-scale digital installations) to engage with the least culturally engaged individuals, groups, and communities, breaking-down barriers to accessing music and the arts.
"Engaging people through digital experiences in partnership with local arts organisations and charities is at the heart of The Virtual Orchestra's concept. By inviting people to experience music outside of the concert hall, and into public spaces and the local community, they can witness orchestral performances in a whole new light.
"I'm working very closely with organisations across Leicester, including the University of Leicester, Leicester-Shire Schools' Music Service, Soft Touch Arts, Attenborough Arts Centre, Bullfrog Arts, Phoenix, and De Montfort University to reach new groups and audiences and inspire the start of their orchestral and cultural journey."
The free 6-week installation will run from Monday 8 October – Saturday 17 November 2018 at the newly refurbished ISKCON CENTRE, Granby Street, Leicester, LE1 6EJ. The Virtual Orchestra will transform the centre into a 10-room installation, showcasing what happens behind-the-scenes in the Philharmonia as the Orchestra perform Holst's The Planets.
Through virtual reality headsets and headphones, visitors will be whisked to London's Royal Festival Hall to see a 360-degree performance, 3D audio and visuals from inside the orchestra. Alongside this, guests will be able to play along with the Orchestra's percussion section, and join a guided tour of the installation led by music specialists.
In addition, the orchestra will provide a series of family, community and school workshops with hands-on activities for all ages. A fringe programme will be delivered by local groups, including Bull Frog Arts, Leicester-Shire Schools' Music Service, De Montfort University and the Philharmonia Orchestra. Activities such as busking, iPad compositions and performances with themes related to Holst's The Planets, will take place around the city.