Lucy Hatton, BSc Criminology, 2017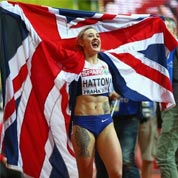 Lucy Hatton graduated from the University in 2017 with a BSc in Criminology. Awarded a sports scholarship upon enrolling at the University in 2014, Lucy is also a professional British track and field athlete competing in the hurdles.
Lucy achieved outstanding athletic performances throughout her time as a junior athlete, which continued as she started to make an impact in the senior ranks by making it through to the finals of the 60 metre hurdles at the 2012 British Indoor Athletics Championships. The following year she was a national finalist both indoors and outdoors, ending that year with a best of 13.62 seconds in the 100 metres hurdles. More recently she was crowned silver medallist at the 2015 European Athletics Indoor Championships.
Although flourishing in her career as a hurdles athlete, Lucy explains her motivations for enrolling onto a course at the University of Leicester:"I never wanted to put all of my eggs in one basket. However, I knew that I wasn't interested in any other path in the sports industry, other than being an athlete. I was never drawn to becoming a coach, teacher, or physio, for example."
"Criminology has always been a subject that I felt fascinated by, and I found a way to combine both sport and these studies together. My dissertation was on sexual harassment in elite female sport, and I have now found a platform that I want to continue in."
"My main motivation for studying for a degree was for the experience and academic qualification. I knew that having a degree would be invaluable to me later on in life."
Lucy is now looking to continue her academic studies and enrol onto a master's course.
She is, of course, continuing to pursue her passion and career as an athlete in hurdles. With lots of forthcoming opportunities in the world of sports, Lucy has lots to look forward to and work towards. She will be training to compete in the World Championships, Commonwealth Games, and European games.
With her athletics career going extremely well, alongside the academic route she has also decided to embark upon, Lucy gives advice for anyone who is looking to enter a similar path to her.
"I would always encourage anyone to do what they love. I believe that passion and dedication go hand in hand. I have had more push backs in my athletic career, but I truly believed, and still do believe, that this was the path I was supposed to lead. Opportunities are everywhere, you must throw yourself at everything possible and never taking anything for granted."
Attending alumni events as a platinum sports scholar has been a highlight of Lucy's time at the University of Leicester, especially attending the 2017 Alumni Association Standing Committee Black Tie Dinner, where she met Sir David Attenborough.
She looks forward to attending more events in the future.
Something Lucy is also extremely proud of, is holding the Athletics BUCS (British Universities and Colleges Sport) record with the University of Leicester next to her name