Benjamina Ebuehi, BSc Economics, 2015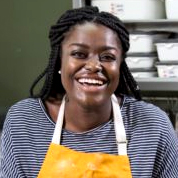 Economics alumna appeared on the seventh series of the popular baking show, Great British Bake Off in August 2016.
Benjamina impressed Mary Berry and Paul Hollywood with her culinary prowess, as one of the 12 contestants in the 2016 series of The Great British Bake Off. 23-year-old Benjamina Ebuehi, graduated from our University in 2015 with a first class degree in Economics with a Year Abroad.
Benjamina, who describes her twin sister as one of her biggest critics, began baking at the age of 14. She likes to combine classic, simple flavours with a fresh, modern style and takes pride in the presentation of her bakes.
She faced three challenges per episode on Great British Bake Off: a signature bake, a technical challenge, and a show-stopper.
Benjamina decided to study at University of Leicester in order to escape from the city life she had been brought up in. ''I was born and bred London. It was all I knew and I think it's so easy to get stuck in that London bubble, believing anything and everything exciting only happens there. I just wanted to explore. Leicester is a great middle ground. And the course really attracted me, it was great.'' Visiting Madison's Café on London Road for a late night cake fix was a favourite of Benjamina's in Leicester, along with St Martin's city centre café.
Alongside her busy schedule Benjamina runs Carrot and Crumb, a cooking blog she regularly updates with recipes for her readers. The blog also gives readers secret tips on re-creating her delicacies. ''The first thing I learnt how to cook properly was carrot cake so I have mastered that over the years. The spiced carrot cake I cook is always on demand with friends and family. The very first cake I baked on Great British Bake Off was a pistachio and cardamom lemon drizzle. It holds the memories I have of the first thing I baked on Great British Bake Off. This means a lot of love and happiness always goes into baking this cake. The judges really loved it which was a bonus!'' Great British Bake Off was judged by celebrity chef Paul Hollywood and British food writer, and television presenter Mary Bell in 2016. Benjamina's favourite judge on the show was Mary, as she felt she could always find something positive to say in her baking, even if it was a disaster. Although Paul was a little tougher, she felt his criticism was helpful.
Rachel Holland, President of the Students' Union, said: "We were really excited to see Benjamina on Bake Off – our second Leicester graduate – and as a Union will be following her progress through the show intently. We have a number of bakers in the SU team, and hope our students will be just as inspired by Benjamina as we are!"
You can follow Benjamina across social media @bakedbybenji, and subscribe to her blog Carrot and Crumb for delicious recipes.