Will Tudor, BA English, 2008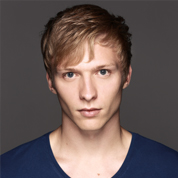 Will Tudor is an actor and alumnus of the University of Leicester. Perhaps best known for playing Olyvar in the popular HBO TV drama Game of Thrones, Will also played Odi in Channel 4's Humans, alongside a film role in Tomorrow, executive produced by Martin Scorsese.
In this interview Will discusses his memories of studying English Literature at the University of Leicester between 2005 - 2008 and his fond experiences of the city and campus, including visiting the Students' Union with Leicester University Theatre, of which he was an active member.