Dr Mark Sims, 1988 - 2017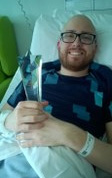 We have learned, with regret, of the death of University of Leicester alumnus Dr Mark Sims. Mark passed away surrounded by his family and fiancée, on 19 January 2017. He was 28.
Mark graduated from the University in 2013 with a Medicine MBChB. In 2016 he was awarded the Outstanding Alumni Achievement Award in recognition of the bravery he had shown by being open about the challenges he had faced and the selflessness he had demonstrated throughout his treatment for cancer.
In February 2015, Mark was admitted to hospital and was diagnosed with stage four malignant melanoma.
Almost immediately after his diagnosis, Mark started chronicling his story on his blog, Wrestling Melanoma, and to date has raised over £100,000 for Cancer Research UK through his Just Giving page.
Dr Richard Rainbow, lecturer in Cardiovascular Cell Physiology, and Mark's supervisor for his intercalated BSc, spoke fondly of his time working with Mark.
'I was lucky enough to have Mark work with me in the lab during his intercalated BSc year, and he also stayed to do a summer project. He was an absolute natural at scientific research and had a curiosity and hunger to understand. Not only that, he was an absolute joy to have in the lab, incredibly clever, hilariously funny and a generous friend.'
'At the University of Leicester, we have established the "Mark Sims Prize for Laboratory Excellence" as a tribute to Mark's exceptional Lab skills. This prize is to be given each year to the intercalated BSc student that has excelled in the laboratory component of their project. '
'The phenomenal amount of money that has been raised for Cancer Research is testament to what an inspirational figure Mark remains. He handled his illness and his treatment with openness, grace and dignity and showed us all how you can still live a full life following such a devastating diagnosis.'
In 2015 Mark was awarded the title of Twitter Doctor of the Year by the British Medical Association for sharing his story through social media and spoke at numerous events including the National Nursing Conference. Mark also fulfilled his 'bucket-list' aim of returning to Leicester numerous times, giving a speech to Leicester University Students Union Medical Association and running the Leicester Half Marathon.
Our sincere condolences go out to Mark's family and friends.