Dr Peter Richards
We have learnt with regret of the death of Leicester alumnus Peter Richards (BA Geography, 1950; Education Studies Diploma, 1951).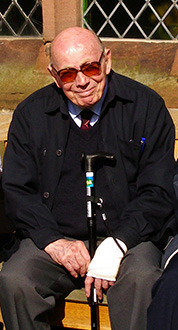 Dr Richards (1927 – 2018) was born in Leicester, before moving to Tottenham at a young age. He completed a Bachelor's Degree and a Diploma at the University of Leicester (then University College Leicester) in the late 1940s. He was the first member of his family to attend University, and later recalled fond memories of his time studying in Leicester.
Dr Richards went on to receive several Masters' Degrees and a Doctorate from other institutions while pursuing a career in Education. This career path culminated when Dr Richards was appointed as Head of Wallasey College of Further Education.
Later in life Dr Richards expressed a wish via a letter to his family to make a donation towards student support at the University of Leicester; a wish that was realised by his daughter Alison in 2023.
Dr Richards' family are immensely proud of him and his lifetime of achievements, and his daughter Alison maintains a keen interest in developments at University of Leicester, an institution that held a special place in her fathers' heart.