Centenary Alumni Celebration - 100 years of achievement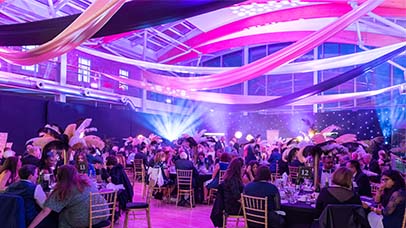 After selling out within a matter of weeks, we were incredibly thrilled to celebrate our Centenary Alumni Celebration - 100 years of achievement on Thursday 12 May 2022, in the heart of campus at the Percy Gee Student's Union Building, which was transformed for the evening! Proudly sponsored by Mattioli Woods, the event saw guests transported into an immersive 1920's experience with a 5-piece swing band and stylish 1920's décor throughout. The evening provided an opportunity for 150 alumni and guests to come together and celebrate 100 years of University and alumni achievements whilst networking and reminiscing in a truly nostalgic setting.
The evening began with a tasteful drinks' reception in the revamped Campus Kitchen, alongside the sounds of a live soloist singer, and provided alumni with the opportunity to chat informally. Alumnus and BBC Radio 5 Live Presenter Chris Warburton (Politics BA, 1998), our Master of Ceremonies for the evening, welcomed guests and ensured the event ran seamlessly, whilst Alumni Association Committee Chair, Martin Cullen, and President and Vice-Chancellor, Professor Nishan Canagarajah, both provided welcoming remarks to the alumni community.
Guests were then wined and dined with a delicious three-course meal in the Students' Union Square before our guest speaker, internationally celebrated visual artist and Patron of the Attenborough Arts Centre, Grayson Perry CBE, captivated the audience during an entertaining speech where he discussed his life and connection with education. The truly fantastic successes of our alumni were then celebrated through the Alumni Awards with a special Citizens of the Century Award which was presented to the Attenborough Family. Michael Attenborough CBE shared what the award means to the whole family and gave a touching acceptance speech.
The event finished on a high with after-dinner dancing and even more photos! Given that it has been over two years since we were able to host our last Alumni Dinner, it was great to see guests' let their hair down and dance the night away!
The following day, alumni took advantage of the opportunity to join tours across campus, including the newly completed Freemen's Common and Space Park Leicester and Brookfield. It was fantastic to meet alumni and chat over tea, coffee, and cake!
After a truly memorable couple of days, we would like to take the opportunity to thank everyone who attended and supported the event.
To relive the evening, you can view all the photographs on the University of Leicester Alumni Facebook page.
Alumni Awards Dinner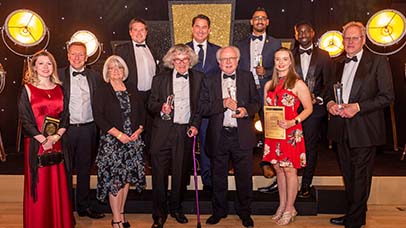 The University of Leicester Alumni Awards celebrates our alumni's remarkable achievements and successes. This year, we were thrilled to be present the Alumni Awards at the Centenary Alumni Dinner - 100 Years of Achievement. So not only did we shine a light on those who have excelled in various ways since graduating, but we will also celebrated 100 years of achievement for the University during its centenary year.
Alumni Awards Dinner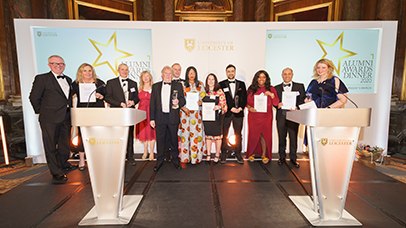 On Thursday 5 March 2020 we celebrated the incredible achievements of our Alumni at the second annual Alumni Awards Dinner, which was held at the magnificent Drapers' Hall in London. We were joined by alumni and their guests, some of whom had travelled from as far as Los Angeles and Nigeria to be with us. The accomplishments of all of the finalists were truly inspiring and demonstrated the global impact that many Leicester graduates have made. Take a look at the winners below:
Award Winners 2020
Alumni Association Graduating Student of the Year Award: Faduma Abdi and Thomas Oliver
Faduma has been involved in numerous activities including working with our Future Students Office to arrange an outreach event during Black History Month for a local school, which was attended by 60 school pupils. She has also led a Digital Innovation Partnership project setting up discussion boards for students to share challenges and solutions, whilst also being a Peer Mentor for first year students.
Thomas has been passionately involved with the Social Impact Team, creating the SEED-funded 'Rewild-UoL Project' to improve biodiversity and ecological best practice at Leicester. He is also part of the Social Impact Ambassador Scheme, the SU's Sustainability Representative, Leicester Delegate for the NUS Sustainability Summit, co-founder of the Impact Newsletter, and creator of the 'Climate Curiosity Talks' campus seminars.
Future Leader Award: Mesut Erzurumluoglu
Overcoming significant adversity whilst doing his BSc, Mesut secured a prestigious scholarship to do a PhD at the University of Bristol. At 31, he is now a very successful early career researcher at the University of Cambridge and has published over twenty papers in some of the most prestigious journals (including Nature Genetics, Nature, and Molecular Psychiatry) which have garnered more than 1,200 citations.
Dr Mark Sims Memorial Award for Public Service: Fred Austin MBE
Fred arrived in the UK as a ten year-old refugee from the Holocaust unable to speak English, but became the youngest grammar school Headmaster in the country. He was a strong supporter and fundraiser for charitable causes including Age Concern, Hearts of England and the Holocaust Educational Trust. He was awarded an MBE for his contribution to education and charitable work in 2006. Fred sadly passed away last year.
Alumna/Alumnus of the Year Award: Katherine Bennett CBE
Katherine is Senior Vice-President of Airbus in the UK. Katherine created the UK Women in Aviation and Aerospace Charter in 2018 and is President-Elect of the International Aviation Women's Association. In 2019, she was awarded a CBE for services to aerospace and aviation. In November 2019 she was appointed Chair of the Western Gateway, the new economic powerhouse for the West of England and South Wales.
Rhoda Bennett Philanthropy Award: Paul Rivlin
Paul has been actively involved with a number of projects at the University over the years. He is Partner and Chairman of an investment management company, as well as a barrister and accountant.
He has funded 3 separate 'Lost Alumni Projects' which aimed to engage with alumni who had lost contact with the University. The project was successful in reconnecting with around 2,000 alumni, who have so far collectively donated over £200,000 to priority appeals. He used his participation in the 5 week Endurance Rally from 'Peking to Paris' to raise £35,000 for Spontaneous Coronary Artery Dissection research. Most recently, Paul has funded a student crowdfunding platform and position at the University to enable student societies to secure additional funding for activities.
He has been an advocate of establishing the University of Leicester Endowment Fund to create permanent capital generating income to support the University's work in the long term. He supported the initial research to establish an endowment model based on successful international practice, and hopes that a culture of alumni giving modest amounts on a regular basis for the endowment will build an endowment that can make a substantial contribution to the University.
Lifetime Achievement Award: David Cousins
David formed the University Folk Society and organised the first ever concert with Spencer Davis and fellow students, Roy Bailey and Michael Nicholson. David became the singer and principal songwriter of Strawbs in the 1960s, the first UK band signed to A&M in Hollywood with seven consecutive albums in the Billboard Top 200, selling over 3 million albums before the band split up in 1979.
David then moved into the radio industry and was appointed Programme Controller at Radio Tees, one of the first 19 commercial stations in the UK, before moving on to DevonAir Radio as the Managing Director. He was responsible for selling DevonAir Radio to Capital Radio and became a Senior Executive of the Capital Radio Group. David then went on to form his own marketing company specialising in the radio industry.
In 2000, David sold his radio interests to form Witchwood Media, Strawbs' own label, which released CDs, DVDs and his song book and autobiography. David was nominated as a Fellow of the Royal Society of Arts. He continues to play music as part of Strawbs, having written over 300 songs during his career, many of which have been used for teaching purposes in schools. Following Strawbs' 50th Anniversary celebration in the USA, he still tours the world.
How events unfolded
The evening began with a drinks reception in the Court Dining Room, giving guests the opportunity to chat whilst viewing some of the fascinating materials on display from the University Archives and Special Collections. Guests were then treated to a delicious three-course meal in the stunning Livery Hall, before Professor Turi King, Master of Ceremonies for the evening, opened the awards ceremony. Alumni Association Committee Chair, Martin Cullen, and President and Vice-Chancellor, Professor Nishan Canagarajah, both provided welcoming remarks to the alumni community, before the awards winners were announced. The event finished with an after-dinner disco in the Drawing Room, giving everyone the opportunity to let their hair down and dance the night away!
Photos from the Alumni Awards Dinner can be found on our Facebook page.
Look out for information about the 2021 Centenary Alumni Awards Dinner later this year.
London Chapter: An evening at the Tate Modern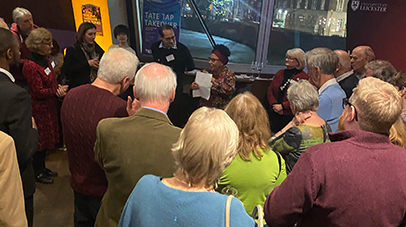 After the hugely successful London Alumni Chapter launch event at the Ruby Blue Bar in Leicester Square in September, the latest event proved to be just as popular. We were joined by 64 alumni at the Tate Modern on Friday 24 January. Guests had the opportunity to meet up with old friends, network with other alumni and hear about some of the exciting news and progress made by the University over the last few months.
The drinks reception was hosted in the Terrace Bar, while guests also had the opportunity to explore the wealth of exhibitions and collections that the Tate Modern has to offer. London Chapter Steering Group Lead, Dr Aaron Porter was joined by the Alumni Association Committee Vice-Chair Lynda Wight in welcoming guests to the event. Esua Goldsmith (Combined Studies BA 1975; PGCE 1977; Honorary Doctor of Laws 2015) provided a fascinating insight into the launch of her new memoir, The Space Between Black and White, with special reference to the University of Leicester and the Students' Union.
Planning for the next London Alumni Chapter event is already underway, so make sure to update your details to ensure we can stay in touch with you.
Nigeria Chapter welcome home events
London Chapter drinks reception
West Africa Alumni Chapter event
Alumni Awards Dinner
National Trusts and Foundations Forum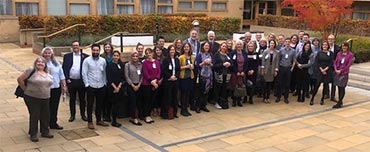 Northern UK HEIs Trusts and Foundations Forum, University of Leicester, 8 November 2018
The University of Leicester Trusts and Foundations team recently hosted representatives from a number of charitable Trusts and 27 UK universities to discuss best practice and emerging trends in the world of trust and foundation fundraising. The Northern UK HEIs Trusts and Foundations Forum heard presentations from the Association of Charitable Foundations, the Paul Hamlyn Foundation, the Reinhardt Trust and the UPP Foundation, as it focused on three main themes: impact, strategy and storytelling.
Sponsored by global fundraising development agency, Chapel and York International, the event was opened by the University's Registrar and Chief Operating Officer, Dave Hall, who described how the University of Leicester was founded by a philanthropic gift and the support of the Leicester community who wanted to leave a lasting memorial to those who lost their lives during World War I.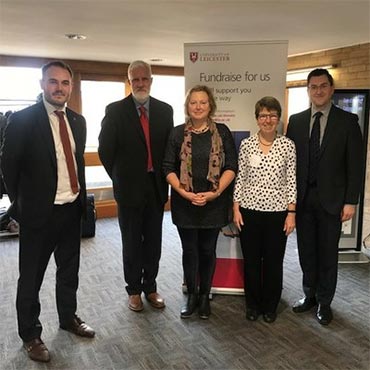 Other speakers included: Professor Melanie Davies, Co-Director of the Leicester Diabetes Centre; Dr Natalie Darko, The Centre for BME Health; Karolin Kroese, Health Matters, University of Leicester; Nic Katona, Director of Philanthropy at the University of Leicester; Steve Jones, Prospect Research Manager, University of Leicester; Paul Tyack, Associate Director and Head of Institutional Philanthropy at University of York; Fiona Watson, Philanthropy Manager at University of Newcastle; Myra Perkins, Trusts & Foundations Development Manager at University of Loughborough; Nancy Bikson, Managing Director at Chapel & York International and Rachael Bull, Editor-in-Chief at Write the Talk.
Reaction to the Forum has been positive and we would be delighted to share the presentations from the conference. Please contact:
chris.shaw@leicester.ac.uk
0116 252 2470
or
seamus.grant@leicester.ac.uk
0116 223 1346
Alumni weekend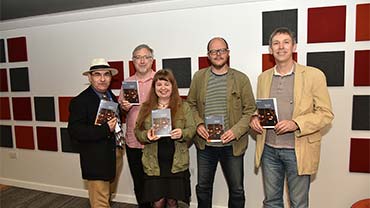 Alumni return home for the weekend.
More than 100 alumni joined us for this year's Alumni Weekend, which took place from 8-10 June. The weekend kicked off with a guided tour of The King Richard III Visitor Centre. The tour also included a special talk by Professor Turi King (MSc Molecular Genetics, 1998; PhD Genetics, 2008), Professor of Public Engagement and Reader in Genetics and Archaeology at the University. Turi is the scientist who identified the remains of King Richard III. Guests then enjoyed drinks and nibbles at the Parcel Yard (formerly Time Bar).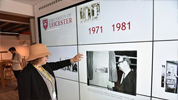 On Saturday, main campus was a hive of activity. Prospective students and their families were at the University's first Open Day of the year and alumni and friends joined them. Alumni explored campus and student accommodation allowing them to see how facilities and services have changed over the years. As part of the Open Day, the Charles Wilson Sports Hall was transformed into a departmental information fair where alumni visited their old departments and chat to academics and prospective students. Guests also attended taster lectures on a range of topics.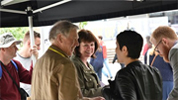 President and Vice-Chancellor Professor Paul Boyle CBE welcomed guests to the event and provided an update on University news and developments. This was followed by a lunch in the Council Chambers, which was accompanied by lots of chatting and reminiscing, before the Annual Review of the Year and Annual General Meeting. Reunions for our forties and fifties graduates, as well as our geography and geology alumni, also took place in the afternoon.
On Saturday evening, a small number of alumni enjoyed a curry at Shimla Pinks on London Road.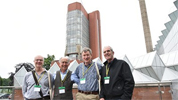 The Alumni Weekend concluded with a tour and talk from alumna Dr Suzie Imber (PhD Physics, 2009; PG Cert, 2016), Associate Professor in Space Physics at the National Space Centre. Alumni had the opportunity to hear all about Suzie's incredible achievements, as well as her experience on the BBC 2 programme Astronauts: Do you have what it takes?
It was fantastic to see so many alumni at the Alumni Weekend 2018 and we look forward to welcoming those who couldn't make it, as well as those who did, to our summer reunion in 2019.
For more photos of the weekend please visit our Facebook page.