Lifetime Achievement Award Winner (2022)
Sir Nicholas Green (Law LLB, 1980; Honorary Doctor of Laws, 2017)
Sir Nicholas Green made his name in a landmark case against the UK government, since then Sir Nick's meteoric rise has continued. He was appointed Queen's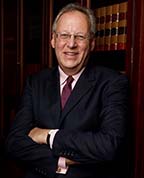 Counsel in 1998, becoming UK Permanent Representative to the Council of Bars and Law Societies of Europe in 2000-2002, he was also appointed Bencher of the Inner Temple in 2002 and made Recorder in 2004. In 2009 he was elected Chair of the Bar Council, the professional body of all barristers in England and Wales for a year and in 2011 became Joint Head of Brick Court Chambers.
In 2013 Sir Nick was awarded a Queen's Honour and appointed as a judge of the High Court of Justice. Appointments are made by the Queen on recommendations, based on decades of distinguished work. He was appointed to the Privy Council of the United Kingdom, a formal body of advisers to the Sovereign of the United Kingdom in 2018, as well as being appointed Lord Justice of Appeal, the first from Leicester.
Sir Nick has also been a long-standing supporter of the University participating in Law School activities such as lectures and talks, judging extra-curricular court competitions, as well as being an Honorary Professor.