Rhonda Bennet Philanthropy Award Winner (2022)
David Barry FCMA (Mathematics BSc, 1965)
Now retired, David is the former Vice President of Finance at CNH Global and spent 40 years working in the industry. David has been a long-standing supporter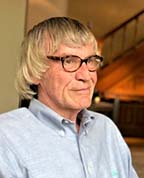 of the University beginning his philanthropic journey in 1998 by supporting the Jubilee Campaign and also attending many University events.
In 2011, David set up the Susan Helen Wiley Memorial Fund, in memory of his late wife. The memorial fund supports undergraduate students in Geography, the subject his wife studied at Leicester, who need funding to participate in optional field courses in the third year. Since then he has also set up and donated to the David Barry Endowed Postgraduate Fund, known as the "Alumni Scholarship Fund", this endowed fund was set up in 2014 to support the cost of postgraduate students in need.
As well as the Women in Maths fund which is a fully endowed scholarship for female postgraduate Mathematics students on a Postgraduate Degree (MSc) in Mathematics, David has also supported Big Data, a match funding campaign for 1960s graduates and most recently the COVID-19 response fund. David continues to top up his three endowments regularly.
In total David's generosity and passion for supporting students and education has meant he has donated over £115,000 to the University.