Future Leader Award Winner (2022)
Alanis Ortiz Espinoza (LLB Law (JD Pathway), 2021)
Upon graduating, Alanis received the Frank May Cup for Volunteering Finalist Award in recognition of her contribution to the University and wider community and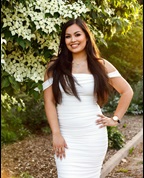 dedicated hundreds of hours to the University's Pro Bono Society, the Leicester Law Review, the Peer Mentor programme and the Library Champions programme. In a year Alanis dedicated around 1,000 hours to volunteer for NGOs, campaigns, workshops, webinars, and conferences.
In 2021, Alanis was selected by Equal Voice, a national organisation that advocates for the equal representation of women in Canada's Parliament, to represent her federal riding in the House of Commons in Canada for the Daughters of the Vote programme. Soon after, she founded an initiative to support students interested in becoming licensed lawyers in Ontario and she tirelessly works to support students throughout their lives.
Alanis is a Director at the Canadian Hispanic Bar Association where she advocates for Latin American lawyers across Canada, Director at Equal Voice, Secretary and Executive Member at the Ontario Bar Association, and Advocacy Committee Member at the Women's Law Association of Ontario, as well as an Executive Member on the CBA.
In December, 2021, Alanis co-hosted a conference with hundreds of attendees, including the Canadian Prime Minister, to celebrate 100 years of women MPs.