Launch of the University's new strategy
4 November 2021
Hello everyone and greetings on this very auspicious day! Today's launch of our strategy coincides with Diwali Day – the festival of lights and new beginnings – a day of special significance for millions of people across the world and thousands here in Leicester and the county. I wish everyone celebrating a Happy Diwali.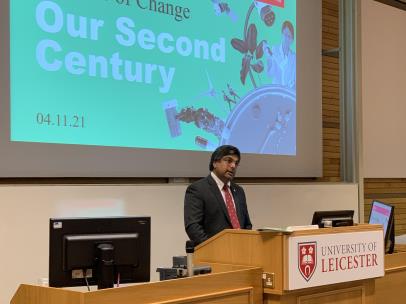 Today is important for another reason – and in fact it is a defining moment in our history. Exactly a month ago to this day, we began our second century as a University, and today we launch our new strategy for the next decade.
On a day marked across the world as a day of new beginnings, we embark on a journey filled with hope and ambition in much the same way as our forbearers did. Light and new life have been closely associated for many cultures globally. In fact, the motto of my childhood school in Sri Lanka, St. John's College, is "Lux in Tenebris Lucet" – an allusion to the Biblical verses on how "Light shines in the darkness."
A similar motto, 'That they may have life', sits at the heart of this University and its mission. We are reminded to harness the transformational power of education to enlighten and change the world for the better. It is to honour the legacy of our University's predecessors that we strive for a better future in all our academic endeavours.
My message to you today relates to the continuation of our 100-year journey and how, over the next decade, we will honour our heritage, advance our mission, and live up to the promises of our ideals.
Over the past two years, we have faced many challenges. The world has changed irrevocably. Despite that, we have made much progress on key pledges made in my inaugural address. But before I go into that, I want to thank you all for the part you have played during the pandemic.
The pandemic has come at enormous economic, social and personal costs to all of us. We have all been affected in some way, and I am deeply saddened that we have lost some members of our University community during this period.
Leicester experienced the longest period in lockdown of any city in the UK; yet the creativity, ingenuity and responsiveness of our staff meant that the impact upon the University was mitigated. As a measure of our national contribution, we recruited more than three times the number of patients into Covid trials than anywhere else in the UK, and we secured a number of national firsts for our work on addressing the impact of Covid on ethnically-diverse communities. Indeed, we ranked in the top three universities in the UK for our Covid research.
This is a fantastic testament to our founding legacy. And it exemplifies how we are indeed Citizens of Change – making a positive impact on the communities around us. I thank you all for your commitment, your dedication, and your passion.
I am inspired by the unique founding story of this University, which was built on philanthropy and public fundraising. Philanthropy has shaped our past as it has our present and will continue to do so in the future.
Today, the impact of philanthropic support can be seen all around us from the David Wilson Library at the heart of our campus to the George Davies Centre, home to our renowned medical school, the pioneering Attenborough Arts Centre and the BHF Cardiovascular Research Centre. From the University's opening in 1921, our donors and alumni have also supported widening access for talented students regardless of their background. Today they continue to generously fund transformational scholarships and bursaries so that thousands more Leicester graduates can enjoy an outstanding academic experience and go on to change the world for the better.
Across the period of the Centenary celebrations we aim to raise £10m in philanthropic support for major projects across all three Colleges with the crucial support of the Philanthropy Advisory Board and US Friends. I am pleased to report that we are already over half way to achieving that ambitious target.
Philanthropy enables the University to plan ahead with more certainty, do things we could not otherwise have done, and to ensure we continue to offer a research-inspired education of the highest quality.
Most recently our donors have supported our world-leading Covid-19 and diabetes research, the establishment of the Centre for Environmental Health and Sustainability, and over 300 Centenary Scholars. Just as the support of our founding benefactors was recognised, we will record all gifts made across the Centenary celebrations for posterity in the New Golden Book.
I would like to take this opportunity to thank them wholeheartedly for their steadfastness, passion and generosity which will help to ensure that our University remains one of the world's leading research-intensive institutions.
I also made a pledge on environmental sustainability at my inaugural address. This is particularly pertinent as the UN Climate Change Conference, COP26, takes place in Glasgow at this moment. In my inaugural address, I said that universities have a clear role in understanding the complex environmental challenges we face and in identifying solutions.
Colleagues and students from across all our academic departments are directly involved in shaping and implementing our net zero plus plan. Our responses in this area are informed by our academic expertise and we have developed formal and informal channels of incorporating our own teaching and research into our environmental sustainability solutions.
Earlier this year, I was very pleased to launch the Centre for Environmental Health and Sustainability. Here and elsewhere across the University, I am proud that ecological, environmental and climate research continues to advance our knowledge and understanding of addressing the pressing need of our time – improving human health and the health of the environment in a changing world.
In my inaugural address, I described how we will mark our centenary according to three themes – Think 100, Our 100, Act 100 – to demonstrate how our history and heritage are shaping our future. Preparations for our centenary celebrations brought into focus our civic contribution, both past and present. They provided a renewed impetus for us to make a demonstrable impact upon our communities in the century to come.
Community engagement is integral to the success of our Centenary programme. I am proud that the University has sponsored the Diwali celebrations in the city, which represent the biggest Diwali celebrations outside of India.
We are a supporter of the Business Awards, the Women in Business awards, the Education Awards, and much more, placing the University in a prominent position as an ally and as a friend to the city. As a University created by the people of the locality, we are giving back to that locality.
A measure of how this strategy of community engagement is being recognised is that this year the Borough of Oadby & Wigston conferred upon us the rare honour of Freedom of the Borough. This is the highest honour the Council can confer. According to the citation, it is awarded in recognition of the University's "distinguished and eminent services in, and associations with, the Borough" marking the Centenary year of the University.
We continue to develop trenchant economic, social and cultural partnerships – I was delighted last month to attend the joint centenary celebration for the Leicester Symphony Orchestra and the University at the Attenborough Arts Centre.
Before the pandemic, the Attenborough Arts Centre welcomed 110,000 visitors each year, of which around 10% were people with disabilities. The combined audience at all our public lectures was 14,000, with another 42,000 people visiting our other public events – and we have 50,000 visitors annually to our Botanic Garden including 11,000 schoolchildren at educational events.
I am committed to enhancing engagement with communities as we continue our mission to be an institution that has a profound impact on the locality and beyond.
At my inaugural address, I pledged to eliminate the awarding gap for minority ethnic students, address the shortage of minority ethnic staff, and create a truly inclusive curriculum.
I announced our ambition to create an Institute for Inclusive Education – the first of its kind in the sector. I am delighted that the Leicester Institute for Inclusivity in Higher Education has now been established with Dr Paul Campbell at the helm. We have also made significant strides in tackling the awarding gap and in assessing our curriculum in order to make it more inclusive, more representative and more relevant to a globally, racially and socially diverse student body. We have designed a curriculum that is fit for a modern and outward-looking 21st century Britain.
I also committed ourselves to research excellence in my inaugural address, and I am pleased to say that Leicester has a track record of world-leading research. Last academic year we secured £69 million in research awards – more than ever before. We had significant successes in receiving Research Fellowships and Doctoral awards from all major funders. Given the context within which we were operating, and the challenges the pandemic placed upon us, I think this is an outstanding achievement. For this, I congratulate you.
Change in the higher education sector seems to be a given and will be particularly so as the Government implements its new Innovation Strategy and continues its focus on the levelling up and skills agendas. It is due to consider the recommendations from the Augur review on student fees and funding, and the Office for Students is consulting on the sector's Quality and Standards Framework. The Pearce Review of TEF will be revisited and Research England will announce the outcomes of REF2021 in April next year, which will impact on our QR research funding allocation and reputation.
The Government's delay in publishing its response to the Augar review demonstrate that the higher education funding question cannot be settled easily and is likely to be subject to continuing change and flux. Tuition fees will remain a contested political topic and this means that we cannot be certain of what our income will be in ten, five or even three years. The increasingly competitive funding environment also makes it difficult to sustain all research activities.
We constantly have to review our operations and adapt the way we work in response to this challenging funding environment. I am grateful for the hard work that colleagues have already done to develop five-year student number plans and financial plans to see us through these external challenges and help us deliver on our strategic aspirations.
The University also has to assess how it will contribute to the Government's levelling-up agenda. Levelling up means higher living standards, improved public services, and more opportunities for our local communities.
And here we mean levelling-up in terms of inclusion too. It cannot be right in 21st century Britain that if you are Black you are less likely to leave university with a first class degree. And that if you are a white working class boy on free school meals, like so many in our region, you are part of the least likely group to go to university, apart from those from the travelling community. I am determined to take action to address this by levelling the playing field for access to university.
We are also contributing to the Government's levelling up agenda through our strategic partnerships. Working with Leicester City Council and De Montfort University, we launched Graduate City, a project which aims to increase the percentage of graduates working in Leicester and Leicestershire after graduating. And our commitment to partnership is continuing – I look forward to telling you in the future about the development of a Civic University Agreement – a public commitment to support our communities in Leicester and Leicestershire.
The recent rhetoric in the media and in political circles concerning universities is neither helpful nor healthy. There is talk of 'Woke universities', 'culture wars' and 'low quality courses'. Questions are raised about whether universities deliver value for money, about student outcomes, and about the economic and social impact of universities.
Our universities are amongst our country's most successful and prestigious institutions. While being mindful of the public expectations of higher education, I will always defend the value of our universities and in particular our Arts and Humanities programmes. Our lives are enriched and fulfilled not simply by the great discoveries in medicine or technology but also by the creativity and knowledge which come from Arts and Humanities.
Higher education is under pressure and this means that the University has had to think carefully about what kind of institution it wants to be. One of my first tasks upon arriving at Leicester was to visit every school, department, and professional service area. One of the constant refrains I heard was that we cannot do everything and be good at everything. It became clear to me that we needed to focus upon what we were good at – and to build capacity in areas of strength.
We recognised the need to focus on investing in staff, students and our infrastructure - and that the only way we could meet this need was to invest more strategically.
In order to do this, over the year we made some difficult decisions to stop activity in some areas. We took some tough decisions to focus on key research strengths in order to build truly world-class capabilities.
I recognise that it has been very difficult for colleagues directly and indirectly affected by some of these changes. But we cannot stand still – we have to prepare for the future and I turn now to our strategy which has been framed within the local and national context, and priorities that I have just described.
Although today is heralded as the launch day for our 10-year strategy, I am sure it has become clear to you that much of the work has already started and been put in place over the past two years. Our work on inclusion, on outstanding research, and transformative teaching has been much in evidence and I have already alluded to it earlier in my speech.
So today, I want to summarise the key features of the strategy and make some new announcements concerning my vision for the future.
Universities are enormously stimulating environments. My thoughts are refreshed on a daily basis through conversations with students and by meeting the brightest minds at the cutting edge of knowledge in their respective fields. It is a privilege to be working at a University where insights into the wonder of the world never ceases and where the possibility of new discoveries never ends. It is a daily reminder that the world truly is a work in progress.
So while the strategy I announce today has been shaped by you, and conversations we have had across the University – the detail is not fixed in stone. It is, like our educational provision, flexible. We must be agile and ready for change, and to adapt our plans and our goals based on the evolving priorities around us.
However, the broad principles I shall outline and the values and guiding principles are certain –and they will shape this University over the first decade of its second century.
Our Mission is expressed as follows:
Diverse in our make-up and united in our ambition, we change lives through education and research
Our Vision – the statement of where we are going – is:
We will provide inspiring education and research, working in partnership with our communities, to become a truly inclusive university
And we will be guided by the following values. These values – the three I's as it were – speak to who we are. They will guide our thinking and our actions. They are the three words I would like to use to describe Leicester because they describe you and what you have achieved best. And they are the words that will describe us in the future as our strategy is embedded and demonstrates the kind of university we are.
Inclusive – Our diversity is our strength and makes our community stronger.
Inspiring – We are passionate about inspiring individuals to succeed and realise their ambitions. We challenge our community to think differently, to get involved, and to constantly embrace new ideas.
Impactful – As Citizens of Change, we will generate new ideas which deliver impact and empower our community.
These values will operate across three strategic themes:
Research-inspired Education
We will provide an inspirational and fulfilling education for all, in an empowering, supportive, and exciting learning environment.
By this we mean we will continue to create a culture and stimulating environment for our students to succeed. We will create an environment for them to reach their full potential and make their mark around the world. Through the programmes we offer and opportunities we present, we have the potential to change people's lives. I have spoken about how education changed my life. I feel like I am in a privileged position now and, as educators, we are in an empowered position to make a difference in the lives of others.
Provide challenging programmes, inspired by our cutting-edge research, that enable students to achieve their full potential, regardless of their background.
Work in partnership with our students to push frontiers, generate new knowledge and nurture creativity, critical thinking and curiosity.
Create a welcoming, inclusive, and enriching environment where all students can develop a sense of belonging and achieve success.
Empower our students with the expertise and skills they need to realise their ambitions to become positive Citizens of Change.
Our second strategic theme is our commitment to
World-changing Research
We will create an inclusive and enabling research environment, delivering world-leading research that transforms lives.
This strategy will enable us to capitalise on our world-class research and strengthen our position as world leaders in particular fields of excellence. I am keen to nurture new talent, to foster collaborative working and new partnerships. I want innovation to sit at the heart of our activities and for the impact of our research to resonate with communities. As a researcher myself, I was driven by the potential to change people's lives by novel approaches and new discoveries. The future is exciting and research offers us a key to unlock some of the challenges that the world faces.
This means we will:
Foster disciplinary and interdisciplinary research excellence, particularly in our areas of distinctive strength.
Optimise the impact of our research and ensure that it creates positive change in economies, culture, communities and global society.
Drive ambitious innovation and enterprise, drawing on our world-leading research strengths, to boost productivity, jobs and wellbeing.
Nurture the next generation of researchers to become world-leaders in their fields.
And our third strategic theme is:
Our Citizens – and it focuses on people, partnerships and impact
We will value, nurture and celebrate our people and relationships, ensuring they are inclusive, impactful, sustainable, and influence positive change in our world.
Our commitments speak to our understanding of how universities like Leicester can be of benefit to their localities and serve as anchor institutions. This is not something new – it has been our role since our inception.
We will harness our talent and our resources to be a partner and pivotal force for good in our region. This will mean a University that is for Leicester and not simply of Leicester.
We will:
Nurture partnerships that support our strategic ambitions and enable our staff and students to be Citizens of Change.
Shape policy and influence decision-making to improve lives and livelihoods in the region, nationally and globally.
Support and enable our community of staff, students, alumni, donors and partners to create a powerful network of change makers.
Maximise our impact as Citizens of Change to tackle the big issues of today and tomorrow focusing on climate change, inclusion and our wider social impact.
I also wanted to describe to you our four Guiding Principles that will be used to inform our decision-making. We will test the different priorities of the University against these important principles: our people – through considering health and wellbeing and equality and diversity; the environment – to ensure that we make responsible decisions for future generations; and our performance – to ensure that we are financially sustainable and operate effectively.
I am extremely excited by this strategy – and as I said, we already have early signs of success. Our focus must always be on being the best that we can be – delivering world-class research, outstanding teaching, and a first-class student experience.
I have already spoken about the importance of partnerships – I am determined that we will be a friend and ally to the city and counties of Leicestershire and Rutland. I am also keen on forming strategic partnerships with international institutions in order to advance our research and teaching missions. In the past two years, for example, we have agreed to a Joint Education Programme with Chongqing Medical University and created a dynamic partnership with Allama Iqbal Open University in Pakistan. The Leicester International Institute, Dalian University of Technology, continues to go from strength-to-strength and we were proud to graduate our first cohort of students this year.
As a University with an international outlook, I am keen that we continue to enhance our mission through a borderless approach to higher education, and we will continue to explore avenues and opportunities that place Leicester at the vanguard of international excellence.
Our guiding principles provide a focus for the work of our professional services and will be key to allowing us to be a high quality institution.
Our strategy is not simply something to place on a website and forget about. It is something we will live and breathe, and even adapt to and change if circumstances dictate. As Winston Churchill once said: "However beautiful the strategy, you should occasionally look at the results."
I firmly believe this strategy will put Leicester in a stronger and better position for the start of our second century and make us prepared for what is emerging nationally and internationally. This is a strategy aligned with what has happened recently and provides scope to face what might happen in the future.
And as I have said, it is not a strategy that starts from tomorrow – we have already embarked upon this journey with many signs of success already in place.
So I am optimistic and excited about the future. In 10 years' time:
We will be recognised globally in key research areas such as the life sciences, space technologies, environmental technologies, culture and heritage
We will be world leaders in some aspects of these research areas
We will be a destination of choice for students from diverse backgrounds in terms of identity as well as social and economic backgrounds and be known as the leading university for inclusivity
And we will be a key partner in our region and beyond – integral to the city and country for economic, cultural and social benefits.
I mentioned that I would be announcing some new initiatives as part of the strategy:
The first is the launch of 100 PhD Scholarships for students to join us from September 2022. Every School and Department will be invited to bid for PhD scholarships, which will be transformational to our research endeavours and be a key part of our preparation for the next REF. This investment is key to creating a dynamic research environment and enable Leicester to compete for major national funding.
Today, I am also announcing a review of academic promotions. We will launch a consultation process to ensure our academic career map reflects our strategic aims – especially in terms of citizenship. Recognising excellence in research and teaching is equally important. In the New Year we will be launching a new merit award process for all staff in Grades 1-9 to recognise and reward their contributions.
I am also conscious that some of our buildings and our IT infrastructure are ageing and need investment to deliver our strategic plan. We need to innovative and prioritise digital developments and as part of this we will develop a clear roadmap for our physical and digital infrastructure.
I would like to conclude with a quote that struck me as particularly pertinent. It was written by author and futurist Jamais Cascio who said: "Nobody's going to fix the world for us, but working together, making use of technological innovations and human communities alike, we might just be able to fix it ourselves."
The success of our vision and our strategy depends on you –the Leicester community here and beyond. Whether you are a student, member of staff, an alumnus or a supporter, you all play a part in shaping our future.
We will be holding a number of in person and digital Town Hall meetings over the coming weeks, so that you have an opportunity to engage with us on the strategy and consider how you can help us to deliver it. This strategy has been informed by discussions we have had with staff, students, alumni and supporters throughout the past two years and I am determined, that going forward, you continue to be a part of shaping our strategy and success.
So, my appeal to you today is to help co-create the future.
I have today set out our direction of travel for the next decade. By working together, we have the strength and capability not simply to achieve our goals but to reach beyond them.
Colleagues.
The world has changed before our eyes – and we cannot predict the future with any certainty. But this I will say:
Hope comes in many forms but it shines brightest in the vision and aspirations of those who embrace knowledge and become empowered with it to change the world.
When I started at Leicester exactly two years to this day, little did I know that just months later a global pandemic would impact us all.
Yet, what I witnessed was great strength, courage, dedication and vision as people from all parts of this University came together as one to face the future. For me, it defined the spirit of Leicester.
It demonstrated that our motto is part of our DNA. We are change-makers.
Where there is challenge, we see opportunity.
Where there is adversity, we find hope.
I marvel at the innovation, ingenuity and inspired thinking that characterises our Leicester family.
I resolved at that moment to harness that spirit, and that energy, through a strategy that will have a defining impact on this University.
Let us shape our future together.
Thank you.