Staying Covid-19 Safe at Christmas
Staying Covid-19 Safe at Christmas
By Dr Primrose Freestone
This year Christmas needs to be different, but it is happening and can still be a wonderful time of year, if we are realistic about Covid-19 safety.
Government guidance
The Government announced new guidance on 19 December, once again tightening restrictions on the mixing of households, and travelling both within and between tiers. It is important that you consider the latest guidance when implementing the suggestions below.
Personal protection
HANDS, FACE and SPACE are still important in protecting you from Covid -19. Regularly wash your hands with soap and water, or use hand sanitiser before touching your face or eating or drinking. Wear a face covering even if meeting family or friends – you are protecting them as much as yourself. And the virus thrives on close personal contact, so keep your distance from those around you.
Stay home
The coronavirus does not stop for the holidays and is still out there. A smaller Christmas is a safer one and the safest way to spend the holiday is at home. Have that annual family meet up by Zoom or your smartphone – it is only for this year, and it keeps them and you safe.
Keep meetings with friends or family short, and ideally outdoors
The larger the group of people meeting, the bigger the coronavirus infection risk. Think carefully about the COVID-19 infection risks involved in meeting family or friends indoors for more than a few minutes; the virus can stay infectious in room aerosols for hours, and on hard surfaces for days. Meeting outdoors is much safer and you can watch the Christmas city lights or listen to the choirs together, while keeping a safe distance – elbow bump or wave rather than hug – and of course wearing a face mask.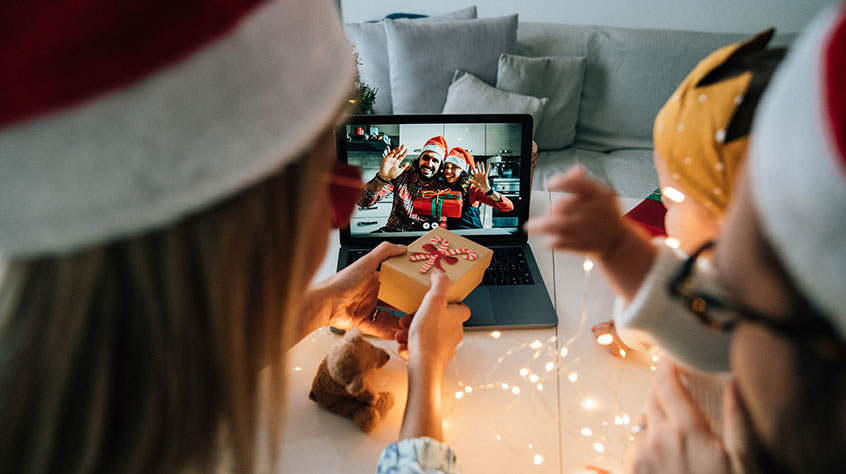 Christmas kindness
The Christmas spirit is about giving. You cannot tell if you are free of infection, so give to your family and friends the gift of protective kindness by not having that get together – keep your friends and family members who are virus vulnerable safe this year so they will be still be around in your life next year.
Food and drink
If you are determined to have that meal together within Government restrictions, avoid sharing food and drink – buffets or sharing plates of food are not a good idea as the coronavirus is good at surviving on hard surfaces for hours or even days. For the same reason don't share cutlery or plates, glasses or cups. Hand hygiene is particularly important as the mouth is a COVID-19 entry point, so remember to wash your hands well before eating and keep a hand sanitiser available.
Keep the windows open
As well as providing an invigorating fresh air and clearing Brussels sprouts odours, the draft from an open window will help to disperse any virus released in the air from anyone carrying the virus.
Christmas can still be celebrated this year, just a little more thoughtfully.