Richard Mair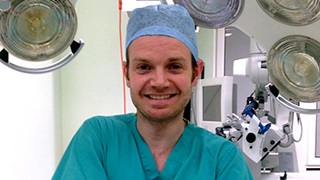 "I graduated from Leicester Medical School in the July of 2004. Despite my never having seen any operative neurosurgery I decided I wanted to be a brain surgeon and so left Leicester soon after house jobs to be Henry Marsh's SHO at Atkinson Morley's in London. I was unable to get onto basic surgical training seemingly due to my lack of an Intercalated BSc and so I chose to create my own rotation by applying to numerous jobs on 6 monthly contracts. Thus over 18 months I was picked to be a casualty officer at the Royal London, an orthopaedic SHO at the NOC in Oxford and finally a 70-hour-a-week neurosurgical nobody at Queen Square in London.
"As part of the first modernising medical careers experiment I was fortunate to be given one of 9 training posts nationally in Neurosurgery and so made my way to Yorkshire. I hadn't realised two things about what this role would entail: 1) I had to spend 2 years in Hull and 2) I would meet my wife. Both of these happy instances led to my becoming an experienced and well-rounded neurosurgical trainee. During this time I had decided that I enjoyed what little I knew of science and so I applied to the University of Cambridge to do a research degree. I found work in the laboratory of Kevin Brindle under the co-supervision of Colin Watts at the CRUK Cambridge Institute. This happened mid-way through ST7 and just after the birth of my first child and was only for a year. Despite several logistical difficulties, we moved and I remain very grateful to my wife for permitting this upheaval. With difficulty I managed to secure funding for a further 3 years of study after which I was awarded a PhD. The vagaries of neurosurgical training preclude inter deanery transfers and so a bespoke Clinical Lectureship was then arranged for me so that I could finish my training whilst maintaining my research interests. After CCT a dual academic/clinical post was created for me and so it was that I took up the post of University Lecturer in Neurosurgical Oncology at the University of Cambridge and Honorary Consultant Neurosurgeon at Addenbrooke's Hospital in January of this year. From medical school in Leicester to being appointed as a consultant I have worked in 17 hospitals in 10 cities; it has taken 20 years.
"My new job is the perfect balance of clinic and academia: I spend 2 days a week cramming theatre sessions, clinics, on calls and ward rounds into ever tighter schedules. I particularly love being in theatre and the complexity of operating on the human brain. I love the reward of successfully completing a difficult operation and the technical improvements that experience brings. Despite this, the frenetic nature of NHS practise is not something I wished to do full time. As such I spend the remainder of my week in the laboratory. My clinical work complements my laboratory research in neuro oncology and I manage to collect samples during my clinical practise that I can use to test scientific hypothesis. I am particularly interested in the tumour microenvironment and how this interacts with the cancer genome.
"I wouldn't say that this career is for everyone, I write this now at 10:00 pm having been in the operating theatre since 7:30 am and not having seen any of my three children conscious at all today. However, I feel very lucky to say that I genuinely look forward to (pretty much) whatever it is I have planned for the day, every day."