Navin Leanage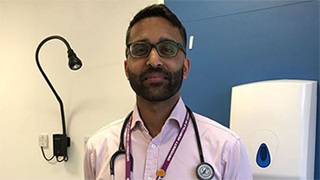 "Leicester was my top choice Medical School both when I applied after school and when I re-applied after my first degree. The opportunities Leicester presents to its students has a unique feel. A mix of lectures and group work encouraged me to manage my time as well as helped me to learn through discussing questions. I found this way of learning suited me and looking back now it has prepared me for clinical practice and continuous learning on the job. Early exposure to patients helped me to understand sympathy and empathy as well as appreciate the patient journey. I particularly enjoyed dissection, this allowed us to learn anatomy in a way that no textbook could do justice. Having experienced this I have found that my understanding of anatomy has stuck with me and is something I have found easier to apply every day.
"There are multiple sports teams and extra curricular activities on top of the University specific ones. Through these I was able to meet students from other years with diverse backgrounds and develop my interests outside of medicine. Leicester Medical School is a particularly sociable place with cohorts intermingling and supporting each other in academics. This is the kind of culture that I valued and feel all Leicester graduates take with them wherever they go.
"I have never regretted my time here to the point where I have stayed on for my training primarily in Leicester and surrounding hospitals as well as working in the medical school as an academic clinical fellow from August 2019. I completed my foundation training having worked in all three Leicester hospitals which I thoroughly enjoyed. It helped that I had been in these hospitals as a student and had been supported by some of the healthcare professionals that I went on to work with. I continue to do academic work with the medical school which I aspire to develop a strong career in. I am also an Emergency Medicine trainee in the East Midlands. The hospitals here provide experience with some of the most diverse patient and staff demographic in the country with one of the biggest and busiest Emergency Departments that excels in teaching on a national level. We are lucky to have an incredible Cardio-Respiratory tertiary centre at Glenfield Hospital on top of the other outstanding departments. As Medical Students and Doctors we are often rotated to the fantastic surrounding District General Hospitals such as Northampton where I currently work. With all this on the doorstep of a friendly and empowering medical school it was not a difficult to decision to come here to study and start my career."