Bindy Sahota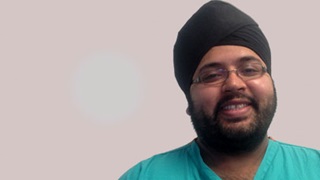 I remember completing my UCAS form and placing Leicester as my top choice for medical school.
The reasons for choosing Leicester as my top choice was due to several factors:
Course format for phase 1 and 2 appealed with direct clinical contact
When I visited the open day I found everyone was friendly, helpful and enthusiastic. All the current medical students I met at that time were very positive about the curriculum.
The location of the Student Halls in Oadby, which is a lovely area of Leicester. I found this was exceedingly different from most Universities with halls often in a neglected part of the city, where as Oadby is a lovely suburb.
It is only 2 hours drive from my parents home, so this made it easy to visit them in term time on a weekend when I had time and it did not feel like a huge effort.
During the 5 year course I felt nurtured, encouraged and valued. The University staff were accommodating generally and the Assistant registrar for the medical degree was amazing along the 5 years. The clinical rotations were primarily at the three hospitals in the City, which are all easy to get to. The outblock rotations are all about 1 hours drive away from the city meaning that you aren't trekking sheer miles away when you go to one of these locations. Clinicians who work at the three hospitals are enthusiastic to teach, friendly and awe inspiring. For example I was on a stroke block being taught clinical skills by two consultants; the hands on teaching that I had on examining the nervous system made the entire process logical, organised and systematic. Even now 16 years later I use the way I was taught when I examine the nervous system. I enjoyed the teaching so much and was inspired by the consultants that I came back to work for them as a Foundation Doctor after I qualified.
Since qualifying I have gone down the route of surgery, specialising in head & neck surgery. I completed my training in the East Midlands, having spent two years in Sydney Australia carrying out research for a Doctorate in Medicine degree that I also received from Leicester. Currently I am working in Newcastle Upon Tyne in a Royal College of Surgeons Head and Neck cancer fellowship. Once I complete this then I am going on an international fellowship to Adelaide Australia to gain specialist expertise in robotic Head and Neck surgery. As part of my career pathway medicine has allowed me on two occasions to work abroad in Australia, this is a great privilege that being doctor allows. Allowing the world to be your oyster.
If I could go back in time now to my UCAS selection form I would whole-heartedly put Leicester again at the top of the form. To quote a Nike™ advert, "just do it!".