Midlands Innovation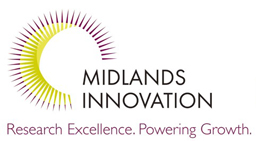 The University of Leicester is proud to partner with seven other leading institutions in Midlands Innovation, a world-class research and innovation partnership in the heart of the UK. Led by the eight Vice-Chancellors, this partnership unites the power of university research with the unique strengths of Midlands industry to drive cutting-edge research, innovation and skills development.
Founded in 2012 (as the M5 partnership), Midlands Innovation's original goal was the sharing of research equipment for improved efficiency. In 2015 the renamed partnership broadened its goals with the aim of driving cutting-edge research, innovation and skills development that can grow the high-tech, high skilled economy of the Midlands and the UK.
Working collaboratively with regional, national and international partners – including the Government's Midlands Engine for Growth – Midlands Innovation is playing a pioneering role in growing the Midlands further as a high-skilled, high-tech, globally-focused economy and improving the quality of life for communities throughout the region.
As well as the original Equipment Catalogue, the University of Leicester is currently a partner in the following Midlands Innovation Projects:
---
Energy Research Accelerator
The Energy Research Accelerator is a centre of excellence that will play a key role in building a sustainable, secure and prosperous future for the UK energy sector by developing new technologies and bringing down costs. The core objectives of ERA are to make better use of primary resources, develop smarter energy systems, reduce dependence on importing energy, enhance energy security and resilience and help achieve ambitious carbon reduction targets.
---
National Centre for Sport and Exercise Medicine East Midlands
The National Centre for Sport and Exercise Medicine East Midlands is one of three centres across the UK established as part of the Government legacy programme for the London 2012 Olympic and Paralympic Games. The aim of the Centres is to improve the nation's health and prevent the onset of disease by enabling experts who specialise in conditions such as chronic disease, sports injuries and musculoskeletal health to work together to treat and prevent injuries caused by exercise and to tackle conditions associated with a lack of exercise.
---
Midlands Physics Alliance
The Midlands Physics Alliance is a coordinated research group and joint Graduate School with the critical mass to compete with the top US and EU Universities. Industrial placements play a key role in the joint Graduate School, providing essential real-world experience for students during their training.
---