The public and wider community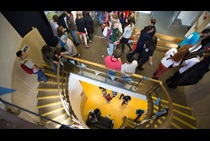 The Annual Scarman Lecture Series
The Scarman lecture, which takes place once a year and focuses on varying Criminological themes including policing, race, criminal justice and human rights is one way the School connects with the Criminological and local community.
The Youth Peer Mentorship in Trinidad is also a project aimed at helping communities in Trinidad by reducing gang violence.
Hate Crime: Transforming Public Recognition
Hate crime is an urgent global priority for governments, lawmakers and practitioners, with many parts of the world experiencing a sustained increase in the prevalence of recorded hate crimes following recent trigger events, including the rise of far right and nationalist movements, a growth of terrorist-related incidents, and the COVID-19 crisis. Research by Chakraborti, Hardy and Allen at the Centre for Hate Studies (CHS) has substantially enhanced awareness and understanding of hate crime and its associated harms amongst a broad range of beneficiaries including victims, witnesses, practitioners, and policy-makers from different sectors. This research has also improved responses to victims and perpetrators through the development of new strategies, changes to reporting mechanisms, and evidence-based training and interventions. Some examples of how the CHS has worked with the general public and wider community can be found on the Centre for Hate Studies.