Prisons and probation
The Leicester Prisons Research Network(LPRN)
The LPRN works closely with prisons across the UK to undertake world-leading interdisciplinary research that shapes policy and practice. This work focuses on 3 main themes: (1) health, well-being and disease in prisons; (2) order, control and security in prisons; and (3) leadership, environment and organisational culture in prisons.
Using Photovoice to Understand the Experiences of those Subject to Community Supervision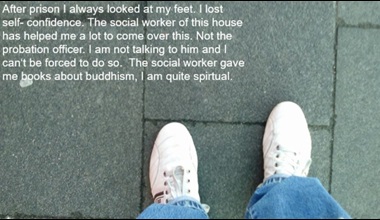 Our staff use innovative methods to understand important issues in society and to communicate the findings of their research to criminal justice stakeholders and the wider public. In this project, Dr. Wendy Fitzgibbon led a project to enhance understanding of the emotions and experiences of women on probation/community supervision. Participants created a series of images to illustrate their emotions and experiences, which were shared with the public via exhibitions in England, Belgium, Scotland and Germany.