Legal institutions and agencies
Sex Work and Sexual Violence
In November 2019, the University and Students' Union ran a joint campaign around supporting student sex workers. The focus of this campaign was to provide information and an education for those who attended events and other sessions, and to vitally highlight support options available. The Sex Work and Sexual Violence webpage has more information.
Hate Crime: Transforming Practice
Hate crime is an urgent global priority for governments, lawmakers and practitioners, with many parts of the world experiencing a sustained increase in the prevalence of recorded hate crimes following recent trigger events, including the rise of far right and nationalist movements, a growth of terrorist-related incidents, and the COVID-19 crisis. Research by Chakraborti, Hardy and Allen at the Centre for Hate Studies (CHS) has substantially enhanced awareness and understanding of hate crime and its associated harms amongst a broad range of beneficiaries including victims, witnesses, practitioners, and policy-makers from different sectors. This research has also improved responses to victims and perpetrators through the development of new strategies, changes to reporting mechanisms, and evidence-based training and interventions. Some examples of how the CHS has worked with legal institutions and agencies can be found in the transforming practice area of the Centre for Hate Studies website.
Mock Trials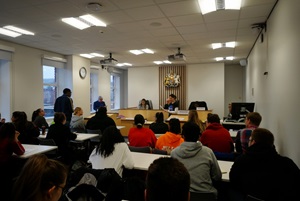 As part of the first-year BSc Criminology undergraduate module, Criminal Justice in Action, students participate in a mock trial event facilitated by Leicestershire's Magistrates Association. Students each play a 'role' in the mock trial and work alongside prominent Magistrates, including the Chair of the Leicestershire and Rutland Bench. This experience allows students to gain a real-world insight into the everyday running of a court, the role and powers of the Magistrates, and how key challenges related to this work may be overcome. Students also participate in activities that teach them how to thoroughly evaluate the evidence they hear, and how to decide on the appropriate sentence for offenders so that the outcome is fair, just and in-line with the law.