Financial Risk Management
Financial Risk Management
MSc, 1 year, full-time
This is for you if... you want to equip yourself with skills in risk management techniques, quantitative analysis, financial analysis and programming.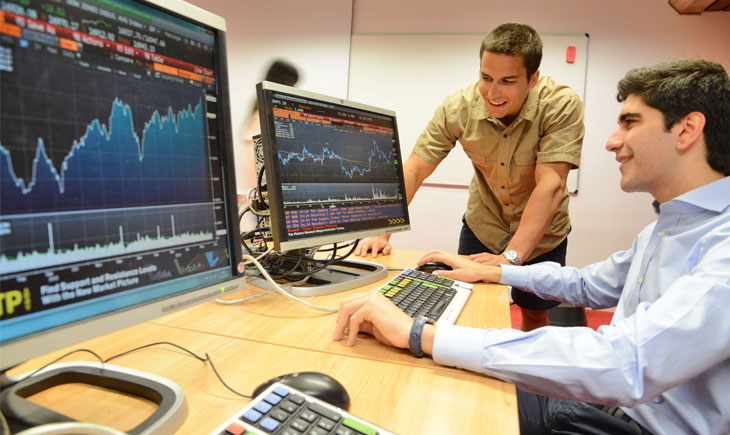 Course Description
The MSc in Financial Risk Management is geared towards your professional development and will provide you with a thorough training in risk management, portfolio management, investment analysis and finance. The degree provides an excellent preparation for employment within the finance industry, particularly in an analytical or risk management role.
You will develop a range of skills in quantitative analysis, including mathematical techniques, econometrics and programming. The dissertation gives you the opportunity to conduct industry focused research, relevant to your future employment.
As well as gaining a thorough insight into financial risk management, the course will equip you with a command of advanced analytical techniques, computing and research methods for problem-solving and the critical evaluation of economic arguments.
To help you develop the skills that leading employers ask for, and let you see how traders work, we have 12 Bloomberg terminals in the University Library.
Why Leicester?
At Leicester you will be taught by leading experts, who have both an excellent academic reputation and real-world experience.
Academic staff at Leicester have produced research on economic growth and development, economic transition in Eastern Europe, the East-Asia crisis and UK monetary and fiscal policy.
Our staff are regularly consulted by government agencies around the world. We also provide expertise to international economic institutions such as the IMF, OECD and the World Bank.
Course Structure
Term 1
Term 1
During your first three weeks you will study the following modules:
Foundations of Mathematics for Finance
Professional Skills in Finance
Core modules
Financial Analysis and Investment
In addition to the core modules you can take the following courses to complement your study for the GARP Financial Risk Manager (FRM) examinations.
Ethics in Finance and Investment
Exams preparation for FRM Level 1
Modules shown represent choices available to current students. The range of modules available and the content of any individual module may change in future years.
Term 2
Term 2
Core modules
C++ Programming for Finance
Option modules
Choose two option modules from:
Accountability, Representation and Control
Empirical Finance
Finance and Society
Finance, Markets and Organisation
Financial Accounting and Audit
Financial Derivatives
Public Finance
Modules shown represent choices available to current students. The range of modules available and the content of any individual module may change in future years.
Term 3
Term 3
Modules
Plus your Dissertation
Modules shown represent choices available to current students. The range of modules available and the content of any individual module may change in future years.
Teaching and Assessment
You will be taught through a combination of lectures, seminars, classes and computer practicals. You will be supported throughout your studies by department staff who are also available for private supervision.
Your course modules will generally be assessed by a combination of exams and coursework projects. Some modules are assessed by demonstrated skills in computing or by seminar presentation where this is appropriate.
Research Stories
Entry Requirements
A good second class honours degree or equivalent from a recognised university with some mathematical or statistical content.
English Language Requirements
IELTS 6.5 or equivalent. If your first language is not English, you may need to provide evidence of your English language ability. If you do not yet meet our requirements, our English Language Teaching Unit (ELTU) offers a range of courses to help you to improve your English to the necessary standard.
International Qualifications
Find your country in this list to check equivalent qualifications, scholarships and additional requirements.
Countries list
Career Opportunities
Our finance and economics courses have been developed to match the needs of employers and are highly regarded within business and government, whether national or international.
This course begins with a 3 week introductory module covering two professional certificates. Firstly you will cover the content for the CFA Institute Investment Foundations Certificate. It is recognised by employers in the finance industry and can be completed optionally externally at a fee. You will also be introduced to the Bloomberg Terminals and given the opportunity to complete the free online exam 'Bloomberg Essentials' Completing these professional certificates can help you stand out to employers.
Many of our students have gone on to work in major banks, companies, and governments, or pursued careers in academia and education.
A postgraduate qualification from the University of Leicester is career-changing. It can be the spring board to promotion with your current employer, the platform from which to launch a new career, or simply an aid to becoming more effective in your current role.
If you are already in employment, enhancing your career by studying at postgraduate level gives a clear signal to employers that you are committed to developing your skills and knowledge and have studied to a higher level.
Read about some of our recent graduates.
Careers
Our Career Development Service is here to support you, with advice on interviews, CVs, work experience, volunteering and more. From Freshers' Week to Graduation and beyond, they are here to help you reach your professional goals.
| Course | Qualification | Duration | Start Dates | Availability |
| --- | --- | --- | --- | --- |
| Financial Risk Management | MSc | 1 year full-time | September each year | Apply Now |
Course
Financial Risk Management
Qualification
MSc
Duration
1 year full-time
Start Dates
September each year
Availability