Shreya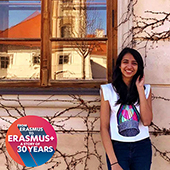 Name: Shreya
Erasmus year: 2016-17
Destination: Erasmus Universiteit Rotterdam, the Netherlands
The best thing about doing a year abroad was experiencing two very different lifestyles in both my semesters. Each semester brought a new set of friends with their own set of ideas. Exposure to that encouraged me to continuously try new things. When or how else can you meet so many friendly and like-minded people who are just as adventurous and inquisitive about new places and cultures as you are? Erasmus+ has made me explore myself and my surroundings; it has made me confident about trying new things, and most of all, it has made me fall in love with experiences and feelings, big and small.
Explore our other Thirty Faces of Erasmus+
Interested in going abroad as part of your Leicester degree? If you are currently studying an undergraduate degree at Leicester it may be possible to study abroad at an Erasmus+ destination. We have more than 100 exchange agreements with universities in 22 European countries, and send over 150 Leicester students to Europe each year. For more information, please email us at studyabroad@le.ac.uk.