Maya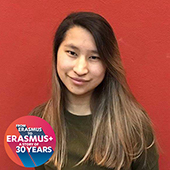 Name: Maya
Erasmus year: 2016-17
Destination: University of Strasbourg, France
Erasmus+ is about finding yourself. It taught me to look after myself in a way I never knew I needed to, to rely on the comfort of my friends, even with language barriers. Erasmus+ is about seizing the day and learning lessons we didn't know we needed to learn. Erasmus+ taught me to love myself and recognise my own abilities; whether they're personal, professional or academic. I can't say that I'm a better student. But I do know that I am a stronger woman and I love myself a lot more than I ever did, which is more than a woman in her early 20s could ever need to learn to do. Thank you Erasmus+.
Explore our other Thirty Faces of Erasmus+
Interested in going abroad as part of your Leicester degree? If you are currently studying an undergraduate degree at Leicester it may be possible to study abroad at an Erasmus+ destination. We have more than 100 exchange agreements with universities in 22 European countries, and send over 150 Leicester students to Europe each year. For more information, please email us at studyabroad@le.ac.uk.