Laura N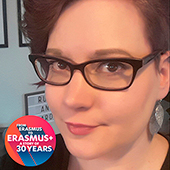 Name: Laura
Erasmus year: 2011
Destination: University of Leicester, UK
Working at the University of Leicester was an exciting and mind broadening experience. Time spent abroad gave me a chance to see new places, get to know some wonderful people and experience new things. All of this gave me an insight into another culture and way of life, which I am grateful for. Having to manage in a foreign language, learning to work with people from different backgrounds and navigating my way in a strange environment taught me confidence and courage. These lessons I will carry with me for the rest of my life.
Explore our other Thirty Faces of Erasmus+
Interested in going abroad as part of your Leicester degree? If you are currently studying an undergraduate degree at Leicester it may be possible to study abroad at an Erasmus+ destination. We have more than 100 exchange agreements with universities in 22 European countries, and send over 150 Leicester students to Europe each year. For more information, please email us at studyabroad@le.ac.uk.