Lala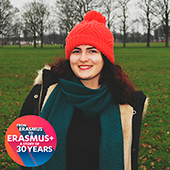 Name: Lala
Erasmus year: 2017
Destination: University of Leicester, UK
My experience with Erasmus+ started in January 2017, and I have to note that this is one of the best experiences I have ever had. Erasmus+ is a great opportunity for students who want to feel an international atmosphere and meet people from all around the globe. In addition, Erasmus+ is a great tool for becoming a more independent person, because now I have to manage my money and time by myself. I also believe that Erasmus+ is going to be a significant accelerator in my future career, because now I feel that there are no boundaries in my opportunities!
Explore our other Thirty Faces of Erasmus+
Interested in going abroad as part of your Leicester degree? If you are currently studying an undergraduate degree at Leicester it may be possible to study abroad at an Erasmus+ destination. We have more than 100 exchange agreements with universities in 22 European countries, and send over 150 Leicester students to Europe each year. For more information, please email us at studyabroad@le.ac.uk.