Ranjeev Bhangoo, Medicine MBChB, 1990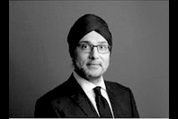 Ranj Bhangoo, esteemed neurosurgeon at Kings College Hospital NHS Foundation trust, began his Medicine MBChB degree at Leicester in 1985, graduating in 1990. Ranj is one of the few neurosurgeons in the UK trained in both Gamma Knife and Cyberknife radiosurgery, specialising in brain tumours, radiosurgery, and adult spinal surgery.
At the end of 2018, Ranj returned to Leicester to deliver a lecture to current students, where he discussed his insights in neurosurgery – a career path that he felt called to from his early childhood.
"I always wanted to be a neurosurgeon, from the age of 5 actually", he said, "So I didn't actually come to Medical School to be a doctor. But, of course, the only route to becoming a neurosurgeon is by training as a doctor first.
"I decided to come to Leicester because the course was very unique in that it offered students exposure to patients from the very first year. I think that's more common across the board in Medical Schools now, but it was unique for Leicester at the time. At other Medical Schools the first two years were comprised of pre-clinical lectures. The fact that you got to interact with patients from the beginning was very important to me. It was one of the main reasons for me to come here."
"I enjoyed Medical School, it was a good experience, but it was a much smaller school then", he said. "When I graduated there were still under 100 students, whereas I believe there's over 200 now. That was nice, because everyone knew each other", he added.
The stand-out memory of Ranj's time at Leicester was qualifying with the Medical School's gold medal in honours. "That was a big achievement for me, I feel very lucky to have been selected for it", he said.
Ranj also credits Dr Frank May MBE for his support during his time as a student at Leicester. "Frank is a very longstanding friend of my family" Ranj said, "he was always very encouraging, and I remember on occasion when I won a prize Frank would give me book tokens, and just generally be very supportive throughout my course. Medicine is a profession that Frank holds in very high esteem. The learning involved and the community service aspect is very important to him, as he has shown through his support of the Medical School."
Post-graduation, Ranj began his surgery training in Leicester, and subsequently moved to London. In 1996, he was awarded the FRCS (Fellowship of the Royal College of Surgeons), after which he began his neurosurgery training.
"My generation was the last generation where, to become a neurosurgeon, you needed two sets of surgical training, which meant that you were very highly trained but it took a lot longer. After that I did my neurosurgical training (primarily in the West Midlands). I then spent a year in Paris at The Institute Gustauve Roussy, which was great, and at which time I specialised in the treatment of brain tumours. I was then fortunate enough to have been offered a job at Kings, and here we are."
On completion of his training, Ranj was awarded the Norman Dott Gold Medal in Neurosurgery as the highest ranked neurosurgical trainee in the United Kingdom.
His one piece of advice to students interested in pursuing this field of medicine? Be conscious of the level of commitment that is required. "For my patients, I am on call 24/7/365, because a very high level of individualised care is required, so it is a huge demand on someone. If someone is thinking about going into neurosurgery they need to be really sure, because there's no doubt that neurosurgery will be the single most consuming thing in their life. It's not something that you can dip in and out of. But that's fine if you enjoy what you do. You learn how to accommodate and make sacrifices.
"I've always been fascinated by the brain, and the interplay between personality, psychology and physical wellness. The brain is easily the most complex thing we know of in the universe, and there is always more to learn and understand."