Pamela Parkes, BA Human Geography, 1991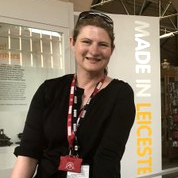 Pamela Parkes graduated from the University in 1991 with a BA in Human Geography and is now working as the Publicist for the BBC's popular TV programme, Antiques Roadshow. With the Antiques Roadshow making a special appearance in Leicester filming at Abbey Pumping Station, we took the opportunity to catch up with her.
''The Abbey Pumping Station was a very different location for the Antiques Roadshow and we were incredibly pleased that it was so popular with members of the public. More than 3,300 people turned up and we saw a fantastic array of items – many with strong links to the city.''
After graduating from Leicester Pamela was offered a role as photographer's assistant at the Sydney Morning Herald, but soon realised her passion lay in writing about people, as opposed to taking pictures of them. She then worked in local radio and television before joining ITN as a journalist.
Pamela then re-located to Bristol, where she is still based now, to take up her first job role with the BBC as an online journalist.
Although she has extensive experience under her belt working with the BBC, Pamela told us how she still feels incredibly privileged to have joined the Roadshow family. Before being appointed as the Antique Roadshow's Publicist, Pamela also worked in the BBC Points West newsroom writing news and features for the BBC website.
We met with Pamela on the day of her first visit back to Leicester since graduating in 1991.
''The city has changed enormously since I was at university. We also had our pre-Roadshow dinner at the hotel where as a student I went to many balls. That was very surreal.''
Pamela Parkes and CarolineAlso working alongside Pamela on the Antiques Roadshow, is fellow alumna and Events Manager, Caroline De Lane Lea. Having both studied Human Geography, they released they had a shared connection only once they became colleagues. Pamela is also friendly with BBC Radio Leicester's breakfast presenter, Jo Hayward, who studied at the University at the same time as her.
''When I next land in the city, I'd love to visit the Space Centre and go back to the pumping station. I also used to love going to Abbey Park during my time as a student.''
Before we let Pamela get back to her busy schedule, we asked her for some top tips for alumni and students looking to go into similar career paths.
''Starting to get experience while you are at university or even earlier is so important! There are so many avenues and platforms that allow you to set up a blog/vlog. Understanding what people want to watch and listen to is key. The BBC Apprenticeship schemes give people the most amazing opportunity to get world class experience on shows such as the Antiques Roadshow, so make sure you check this out.''