Henna Rai, BA Sociology, 1999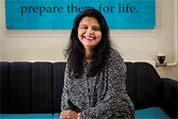 Henna Rai is an alumna with a mission - to empower, engage and educate women who are victims of radicalisation through her organisation WARN (Women Against Radicalisation Network).
Henna was born and raised in Leicester. After completing a BA in Sociology in 1999, her impressively varied career has included working with NGO's to support victims of sex trafficking and to rehabilitate street children in Mumbai, being an expert commentator on issues of violent extremism and radicalisation of young people, and working closely with the Home Office's department of security and counter-terrorism.
Henna has been a guest on programmes such as BBC's Daily Politics, News Night, The Big Question, Channel 4 News, the BBC Asian Network Radio, and Radio 4 Women's Hour. She also stood for elections in Edgbaston as an independent candidate in 2015!
A student of the 90s, Henna shared that it was definitely a time of change at Leicester when she was at the University. Initially, she was going to study Medicine, but ultimately changed her mind after deciding that Sociology was the right course for her. A decision, in part, that she credits to family friend and Sociology academic at the University, John Williams- "it's all his fault!", she said.
"When I was at Leicester, it was a time when everything was becoming IT-fied. I was there when we all got our first hotmail accounts as the intranet had just been introduced. We set up our accounts and started using the World Wide Web for the first time. If we lost the internet we had to dial it up again - I remember all of my essays and dissertations being on word processor at home!"
For Henna, being a student was more than simply turning up to lectures, it was an opportunity to have a voice. "I was always a loud-mouth on campus", she added, "we were there when they started to introduce print charges, up until that point everything was free. I was one of the first out there protesting it!"
This ability to address difficult or at times 'taboo' subjects is a skill that has driven Henna's successful career, and is central to the ethos behind WARN - an organisation that she has set up independently. Its aim is to empower women whilst providing safeguarding for families against radicalisation.
"WARN works at grassroots level to be a safe space for women whilst addressing issues that they may be facing – such mental health/wellbeing, sexual exploitation, grooming, domestic abuse, honour-based violence, gender equality and misogyny", Henna said.
"For me, it's about ensuring that agency and choice is there for women, and I allow them, through my work, to understand that they do have choices. They have choices according to their faith, they have choices according to the laws of this country, and they have choices according to their own individual person - which is most important. That agency is what WARN is aiming to give women."
When asked what advice she would give to students who might like to get involved in similar support work one day, Henna said "make sure that you are in a secure situation financially, and then go follow your dreams".