Ranjeev Bhangoo, Medicine MBChB, 1990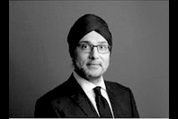 Ranj Bhangoo, esteemed neurosurgeon at Kings College Hospital NHS Foundation trust, began his Medicine MBChB degree at Leicester in 1985, graduating in 1990. Ranj is one of the few neurosurgeons in the UK trained in both Gamma Knife and Cyberknife radiosurgery, specialising in brain tumours, radiosurgery, and adult spinal surgery.
At the end of 2018, Ranj returned to Leicester to deliver a lecture to current students, where he discussed his insights in neurosurgery – a career path that he felt called to from his early childhood.
"I always wanted to be a neurosurgeon, from the age of 5 actually", he said, "So I didn't actually come to Medical School to be a doctor. But, of course, the only route to becoming a neurosurgeon is by training as a doctor first.
"I decided to come to Leicester because the course was very unique in that it offered students exposure to patients from the very first year. I think that's more common across the board in Medical Schools now, but it was unique for Leicester at the time. At other Medical Schools the first two years were comprised of pre-clinical lectures. The fact that you got to interact with patients from the beginning was very important to me. It was one of the main reasons for me to come here."
"I enjoyed Medical School, it was a good experience, but it was a much smaller school then", he said. "When I graduated there were still under 100 students, whereas I believe there's over 200 now. That was nice, because everyone knew each other", he added.
The stand-out memory of Ranj's time at Leicester was qualifying with the Medical School's gold medal in honours. "That was a big achievement for me, I feel very lucky to have been selected for it", he said.
Ranj also credits Dr Frank May MBE for his support during his time as a student at Leicester. "Frank is a very longstanding friend of my family" Ranj said, "he was always very encouraging, and I remember on occasion when I won a prize Frank would give me book tokens, and just generally be very supportive throughout my course. Medicine is a profession that Frank holds in very high esteem. The learning involved and the community service aspect is very important to him, as he has shown through his support of the Medical School."
Post-graduation, Ranj began his surgery training in Leicester, and subsequently moved to London. In 1996, he was awarded the FRCS (Fellowship of the Royal College of Surgeons), after which he began his neurosurgery training.
"My generation was the last generation where, to become a neurosurgeon, you needed two sets of surgical training, which meant that you were very highly trained but it took a lot longer. After that I did my neurosurgical training (primarily in the West Midlands). I then spent a year in Paris at The Institute Gustauve Roussy, which was great, and at which time I specialised in the treatment of brain tumours. I was then fortunate enough to have been offered a job at Kings, and here we are."
On completion of his training, Ranj was awarded the Norman Dott Gold Medal in Neurosurgery as the highest ranked neurosurgical trainee in the United Kingdom.
His one piece of advice to students interested in pursuing this field of medicine? Be conscious of the level of commitment that is required. "For my patients, I am on call 24/7/365, because a very high level of individualised care is required, so it is a huge demand on someone. If someone is thinking about going into neurosurgery they need to be really sure, because there's no doubt that neurosurgery will be the single most consuming thing in their life. It's not something that you can dip in and out of. But that's fine if you enjoy what you do. You learn how to accommodate and make sacrifices.
"I've always been fascinated by the brain, and the interplay between personality, psychology and physical wellness. The brain is easily the most complex thing we know of in the universe, and there is always more to learn and understand."
Pamela Parkes, BA Human Geography, 1991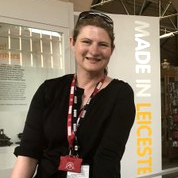 Pamela Parkes graduated from the University in 1991 with a BA in Human Geography and is now working as the Publicist for the BBC's popular TV programme, Antiques Roadshow. With the Antiques Roadshow making a special appearance in Leicester filming at Abbey Pumping Station, we took the opportunity to catch up with her.
''The Abbey Pumping Station was a very different location for the Antiques Roadshow and we were incredibly pleased that it was so popular with members of the public. More than 3,300 people turned up and we saw a fantastic array of items – many with strong links to the city.''
After graduating from Leicester Pamela was offered a role as photographer's assistant at the Sydney Morning Herald, but soon realised her passion lay in writing about people, as opposed to taking pictures of them. She then worked in local radio and television before joining ITN as a journalist.
Pamela then re-located to Bristol, where she is still based now, to take up her first job role with the BBC as an online journalist.
Although she has extensive experience under her belt working with the BBC, Pamela told us how she still feels incredibly privileged to have joined the Roadshow family. Before being appointed as the Antique Roadshow's Publicist, Pamela also worked in the BBC Points West newsroom writing news and features for the BBC website.
We met with Pamela on the day of her first visit back to Leicester since graduating in 1991.
''The city has changed enormously since I was at university. We also had our pre-Roadshow dinner at the hotel where as a student I went to many balls. That was very surreal.''
Also working alongside Pamela on the Antiques Roadshow, is fellow alumna and Events Manager, Caroline De Lane Lea. Having both studied Human Geography, they released they had a shared connection only once they became colleagues. Pamela is also friendly with BBC Radio Leicester's breakfast presenter, Jo Hayward, who studied at the University at the same time as her.
''When I next land in the city, I'd love to visit the Space Centre and go back to the pumping station. I also used to love going to Abbey Park during my time as a student.''
Before we let Pamela get back to her busy schedule, we asked her for some top tips for alumni and students looking to go into similar career paths.
''Starting to get experience while you are at university or even earlier is so important! There are so many avenues and platforms that allow you to set up a blog/vlog. Understanding what people want to watch and listen to is key. The BBC Apprenticeship schemes give people the most amazing opportunity to get world class experience on shows such as the Antiques Roadshow, so make sure you check this out.''
Bina Bilgrami, Finance MSc, 1997
What is your current or most recent job title?
Head of Green Banking and Sustainability.
Tell us a brief summary of your career to date since graduation
I am an executive management professional with multicultural experience across the Middle East, Europe and South Asia, having worked at top global and regional financial institutions. I have expertise in new business development, risk management, relationship management, and financial institutions, with proven skills in leading teams. I have a track record of exceeding targets personally and as part of a team.
I joined the University of Leicester as a recipient of the prestigious Bank of England Fellowship. I already had three years of work experience with Credit Agricole Indosuez. After graduation I joined Emirates Bank International PJSC and from there, moved to Bank of America and many other banks. My focus remained on corporate and investment banking in senior-level banking positions. In the last six years, I consciously made a move to the credit risk and compliance side of banking, which has now led to my current position of Head of Green Banking and Sustainability, where I am leading the strategy, policy, execution and promotion of environmentally friendly practices that aid the Bank and its customers in identifying and managing environmental risks as well as reducing their carbon footprint and related socially adverse actions.
What were the biggest challenges you have faced within your education and career history? What advice would you give to anyone in a similar position?
The main challenges I have faced in my career is the bias towards women in general, where we are not taken seriously or are not given our fair share. Unfortunately, this has been the case in almost all the organizations that I have worked with. To combat this prejudice, I've had to work extra hard to prove my mettle and to show men that being a woman is not an impediment.
What were your motivations for enrolling on a course at the University of Leicester?
The Bank of England offered me Fellowship to undertake a one-year degree course in a banking-related subject. I chose Leicester due to its outstanding programs in Finance and its multicultural student body. Being close to London was also a factor that made my decision easy.
How did your course and your experience in Leicester aid your personal and professional development?
The best years of my life were at Leicester. It was a character-building experience where I gained confidence, independence and self-reliance. I made friends from different countries and cultures (who are still my friends) and learned a lot about life which I probably wouldn't have if I'd not attended Leicester. I studied hard as I was passionate about my degree, but I also had a fun time doing that.
What would you tell your younger self if they were just starting out at the University of Leicester?
Study hard (education is the most important thing in life) but also have fun while doing so.
Lukwesa Burak, Geographical Information Systems MSc, 1998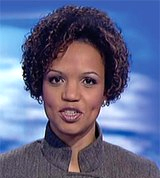 Born in Zambia, Lukwesa came to the UK aged 8. Now living locally with her husband and two children, it was during her undergraduate year abroad in Switzerland that the University caught her attention.
After graduating in 1998, Lukwesa used knowledge from her Master's degree studying Geographical Information Systems (GIS) to work for Transport for London where she helped with the development of the Jubilee line. From there, she took a job working for Leicester City Council, advising on how to reduce air pollution in the city. It was during this time that Lukwesa, as she puts it, 'fell into the media side of things', successfully applying for a Broadcast Assistant role. Prior to the BBC, Lukwesa has had a long career in television broadcasting, encompassing roles at Sky News, Al Jazeera and eNews Channel Africa.
Lukwesa said: "I often get into trouble with my producers for highlighting University of Leicester news so much, but I am passionate about all of the universities that I have attended because of what they have given me."
Lukwesa Burak is now BBC's Inside Out East Midlands current affairs programme. She presented her first edition of the programme on Monday 5 September 2016, which was a Brexit special focusing on the impact on the East Midlands. Watch the programme via BBC iPlayer.
Henna Rai, BA Sociology, 1999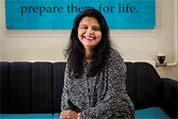 Henna Rai is an alumna with a mission - to empower, engage and educate women who are victims of radicalisation through her organisation WARN (Women Against Radicalisation Network).
Henna was born and raised in Leicester. After completing a BA in Sociology in 1999, her impressively varied career has included working with NGO's to support victims of sex trafficking and to rehabilitate street children in Mumbai, being an expert commentator on issues of violent extremism and radicalisation of young people, and working closely with the Home Office's department of security and counter-terrorism.
Henna has been a guest on programmes such as BBC's Daily Politics, News Night, The Big Question, Channel 4 News, the BBC Asian Network Radio, and Radio 4 Women's Hour. She also stood for elections in Edgbaston as an independent candidate in 2015!
A student of the 90s, Henna shared that it was definitely a time of change at Leicester when she was at the University. Initially, she was going to study Medicine, but ultimately changed her mind after deciding that Sociology was the right course for her. A decision, in part, that she credits to family friend and Sociology academic at the University, John Williams- "it's all his fault!", she said.
"When I was at Leicester, it was a time when everything was becoming IT-fied. I was there when we all got our first hotmail accounts as the intranet had just been introduced. We set up our accounts and started using the World Wide Web for the first time. If we lost the internet we had to dial it up again - I remember all of my essays and dissertations being on word processor at home!"
For Henna, being a student was more than simply turning up to lectures, it was an opportunity to have a voice. "I was always a loud-mouth on campus", she added, "we were there when they started to introduce print charges, up until that point everything was free. I was one of the first out there protesting it!"
This ability to address difficult or at times 'taboo' subjects is a skill that has driven Henna's successful career, and is central to the ethos behind WARN - an organisation that she has set up independently. Its aim is to empower women whilst providing safeguarding for families against radicalisation.
"WARN works at grassroots level to be a safe space for women whilst addressing issues that they may be facing – such mental health/wellbeing, sexual exploitation, grooming, domestic abuse, honour-based violence, gender equality and misogyny", Henna said.
"For me, it's about ensuring that agency and choice is there for women, and I allow them, through my work, to understand that they do have choices. They have choices according to their faith, they have choices according to the laws of this country, and they have choices according to their own individual person - which is most important. That agency is what WARN is aiming to give women."
When asked what advice she would give to students who might like to get involved in similar support work one day, Henna said "make sure that you are in a secure situation financially, and then go follow your dreams".