Phelim Brady MBE, BA Social Sciences, 1972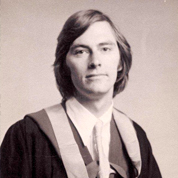 Phelim graduated in 1972 and when he applied to go to University, intended to study Economics and ended up on the BA Social Sciences course. He decided to change subjects and specialise in Sociology and Social Psychology for the next two years, because he had to take an option in the second year from outside your core programme and I chose economic history.
Phelim wanted to teach and immediately after his PGCE was offered a job at Lincoln College of Technology. After ten years in Lincoln (1973-1983) he moved to Farnborough in Hampshire (1983-2012) and ended his career there as the deputy principal of the college in December 2012. For the first part of he career he taught Sociology at O and A level and on other courses, in particular teacher training programmes. The last half of has career has been as a manager in a large further and higher education college.
While teaching and marking O and A level Sociology he became the chief examiner for the AEB O level papers and for a few years had the privilege of determining what counted as Sociology for thousands of teenagers.
Phelim says as he was in full time employment prior to going to Leicester it was not an obvious choice and some friends did say that he was making a mistake. He had left school after O levels, but while working full time decided to enter himself for three A levels. He entered University life with a full grant.
He tells us about his time at Leicester, and how these memories are wonderful, ''The new ideas, the excitement of study as an adult and the freedom to explore so many new areas of thought and experience was thrilling. The University was much smaller then and without the Medical School. This meant that you soon felt at home and started to recognise each other as you visited the various coffee bars and the library. The Social Science teachers did frequent the student coffee bars and there were often discussions going on between mixed groups of students and faculty. I made friends with one of my lecturers and she has been a dear friend ever since."