Jane Eswuantsiwa Goldsmith, BA Combined Studies, 1975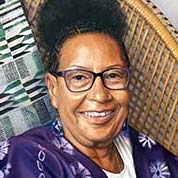 Known as Jane Goldsmith at Leicester University, Jane has recently changed her name to Esua, a shortened form of her Ghanaian name Esuantsiwa.
Esua was the first woman and the only woman of colour to be elected as President of Leicester University Students Union (1975-6).
In 2015, Leicester University awarded her an Honorary Doctorate of Laws in recognition of her lifetime's work in International Development and Women's Rights.
In 2018, Leicester University commissioned a portrait of Esua, one of three new portraits, of women, by women artists, to be displayed in the Council Room space, extending the range of diversity captured in the art on display at the University.
"I chose Leicester because of the combined arts course, which was unusual at that time," Esua says, "I've always been interested in so many different subjects, making connections, interacting with lots of different people and ideas, so the course really appealed to me – History, Politics, English, Philosophy, Sociology – and particularly phenomenology of religion, which was unique because it approached faith from an anthropological and cultural perspective."
Leicester City was becoming increasingly diverse during the 1970s, with Asian immigrants arriving from Uganda. "We students got addicted to the wonderful curry houses - and I went down to Belgrave Road to buy a stunning green and silver sari which I wore to all the formal occasions. And of course, we marched against the National Front who were becoming increasingly active."
Universities were much smaller in those days; there were around 3,500 students at Leicester so it felt like a community. Esua believes her generation were lucky in many ways - most of them entitled to some level of maintenance grant, there were good employment opportunities for graduates, and most students were not under the same kind of financial and career pressures as they are now. "Some of us were the first in our family to go to university, so we felt optimistic that we could make the world a better place. That's why we have to support this generation of students, because it is far tougher for them.
The 1970s was a tumultuous decade - the rise of racism and the National Front, the 3-day week, the Irish troubles, legislation on gender and race equality, and the referendum to join the European Union, against the international backdrop of the Vietnam War and the Cold War. Esua threw herself into student politics with a passion - the women's movement, anti-apartheid, gay rights, human rights, international anti-poverty, the Campaign for Nuclear Disarmament, and student grants campaigns. "Several hundred students used to turn up for Student Union meetings in those days. It was exciting, inspiring. I got my education in the Union – leadership, public speaking, activism, the beginning of my life-long commitment to feminism and social and political justice."
Esua went on to complete a PGCE course at Leicester University School of Education, before serving for two years in Tanzania as a volunteer teacher with Voluntary Service Overseas (VSO). "I'd recommend volunteering to anyone of any age. It is a life-changing experience you can draw upon for the rest of your career."
After VSO Esua spent a number of years working for Women's Rights and International Development Organisations. She served as a Trustee on many Voluntary Sector Boards, including Chair of the Fawcett Society, Vice Chair of Action Aid UK, and Commissioner for the Women's National Commission.
In 1995 Esua founded Anona Development Consultancy to work as an energiser, motivator and facilitator for voluntary organisations worldwide, offering management development, training, team-building and strategy development. Esua has worked with over 100 different organisations on five continents, developing global strategies for Wateraid, Oxfam and ActionAid, among many others. "My approach is participatory and inclusive," she explains, "I work with groups of all sizes from six to several hundred in the room at the same time, using high energy, humour and an informal, light touch. It won't work if it's not exciting, inspiring and fun."
Esua treasures the opportunities she has had to work with people all over the world on the issues she feels passionate about, and the lifelong friendships she made during her time in Leicester.