Tim Brown, BSc. Zoology, 1961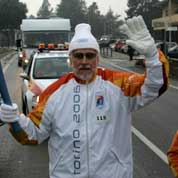 During his time at Leicester, Tim Brown played water polo for the University earning his half-colours. In 1961 he was a member of the University of Leicester East Greenland Expedition under the leadership of Dr Halliday. He went from University of Leicester to Chelsea College, to London University where he completed a Ph.D on the microbial dynamics of activated sludge. During that time he married Beryl Ireland who had graduated from Leicester Teacher's College.
In 1965 he took up a Lectureship at Massey University, New Zealand, where he ran Cell Biology courses for 300-600 students in the Department of Microbiology. He also lectured in Environmental and Applied Microbiology.
He and his wife had three children during that period but sadly were divorced in 1977. He later married Greer in 1984. They have, between them, five children and eight grand-children. Tim became a New Zealand citizen in the 1960s. He was heavily involved in the local branch of the Royal Society of New Zealand, as president, and a number of other local Council sub committees.
Tim had research contracts with NZ Ministry of health over period of 22 years for research into fatally pathogenic Hot Pool Amoebae (Naegleria); Giardia and Cryptosporidium. He headed a research team of about eight and a self-funding commercial service lab. He was President of the NZ Microbiology Society for a period and became an FRSB (FInstBiol) in 1991 and Professor of Microbiology in 1992. Tim was a member of the Waikato University Antarctic Research Programme in 1971 and led the first Massey University Expedition to the ice in 1977.
After skiing in Norway in 1964 Tim developed this passion in New Zealand on Mount Ruapehu, an active volcano. He was proud to pass the full weekend selection test to become a member of the Ruapehu Ski Patrol, which he loved. This and his polar experiences helped support his selection (5/500) as a Torchbearer for New Zealand at the Winter Olympics, Torino, Italy in 2006. A great honour!
Tim has always loved music and played the tenor saxophone in a Big Band for sixteen years and now sings in The Manawatu Community Choir. He and his wife, Greer, attend many concerts and theatre performances.
Tim and Greer have travelled widely and coming back to Leicester University and Tim's home town Hull, City of Culture UK 2017 is a pilgrimage not just a visit.