Love at Leicester: The Palmer's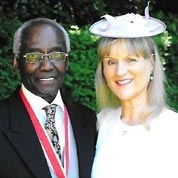 Meet alums Geoff and Maggie Palmer, who met whilst studying at our university together in the early Sixties.
Margaret Palmer
Maggie attended Brockenhurst Grammar School in the New Forest. Her father was headmaster of the school, so as a teenager she was expected to fulfil this role by being a model pupil, behaving perfectly and working hard. This resulted in her living a sheltered life, reading books and playing in school sports teams. Maggie had offers from Reading, Nottingham and Leicester universities to read Psychology. She chose Leicester because there were pupils from her school at the other universities and she wanted to be free of the 'Headmaster's daughter' connection.
Maggie graduated in 1964 with an Honours degree in Psychology with subsidiary English.
Geoff Palmer
Born in St Elizabeth, Jamaica, Godfrey "Geoff" Henry Oliver Palmer joined his mother in London in 1955 when he was 14.
Everyone in the family worked hard. Geoff's mother had saved for years to bring him to London, and the morning after Geoff landed, he got up early to begin a new job. Just as he was about to leave the house an official arrived from the Educational Authorities. Although Geoff was only one month short of the then school leaving age of 15, the official insisted that he attended school.
This official's visit changed Geoff's life. He was a talented cricketer, and was transferred from the local Secondary Modern School to Highbury County Grammar school because the Grammar school needed a cricketer!
After finishing school, he applied for a job at Queen Elizabeth College as a Junior Laboratory Technician, where he met Professor Chapman on his very first day. It was Professor Chapman who encouraged Geoff to apply to university, saying, ''I want you to go to the local polytechnic to get your A-levels and I want you out of this building by 1961 because there isn't enough room for you and me…I think you're smarter than you make out to be!''
Smiling, Geoff tells us that without Professor Chapman, his life would have turned out very differently.
Geoff graduated in 1964 with an Honour's degree in Botany.
The First Meeting
Geoff and fellow student Hatib were two of the first international (African-Caribbean) students to study at Leicester in the 1960s. They wanted to meet other students, so decided they needed to create a club to become integrated.
When Geoff suggested they set up an International Society, Hatib responded, "But there's only two of us."
''Nevertheless, we put a poster up, found some music and hired a room in the Students' Union"
Maggie and her friend were looking for something to do and thought that an International Society party sounded interesting.
"You were the only two males! '' she says, laughing.
After that first evening they would bump into each other on campus and stop to chat, until one day Geoff asked Maggie out on a date.
''Every Saturday the Hop was on at the Students' Union in Queens Hall," Maggie remembers. "They used to have different bands on every week. Geoff asked if I would like to go with him one Saturday.''
Geoff was always looking for an excuse to speak to Maggie on campus.
''She had a bicycle, which was quite a thing because I'd never had one. One day she had a problem with her bike, so I went over to fix it, or did my best. She told me the next day that I made it worse! I did point out to her that I was a botanist, and she should've engaged an engineer!
"She rode the 'repaired' bicycle to the Hop on the evening I asked her to go. We used to go to dance events together and chat in the canteen. We became good friends and our relationship progressed from there.''
The One
During their years at Leicester, Geoff and Maggie became very close. Geoff tells us how he was never worried or frightened about being in a long-term relationship with Maggie. ''I had no reservations. I knew Maggie was somebody I would love for a long time.''
Geoff admired Maggie for defying people's prejudices and loved her courage. As for Maggie, she never found Geoff boring. ''The other men I met at university and school wouldn't really talk about much. The first time I met Geoff we had a deep conversation that struck me. He was interesting."
Geoff has always been a deep thinker. When he received an honorary degree in our 2016 graduation ceremonies, Geoff made a correlation between the focus of his undergraduate dissertation and the transfer of knowledge from one generation to another.''
I noticed in my research project that the oldest leaves transfer their nutrients and water to the youngest before they fall off and die. When I see compassion in people it endears me to them. I could see this selfless commitment in people like, Chapman, Wangerman (one of my lecturers), and Margaret herself.'';
Life after Leicester
After graduating Maggie trained as an educational psychologist while Geoff began a PhD in Edinburgh. For four years they met only during academic breaks.
Once Maggie had completed her training she took a job in Crawley, Sussex. Geoff became a researcher with the Brewing Research Foundation in Surrey. They moved into Maggie's flat together and soon got married. They have now been married for nearly fifty years, having met at the university 56 years ago.
Geoff is Professor Emeritus in the School of Life Sciences at Heriot-Watt University. Both he and Maggie are involved in charitable community work and enjoy their visits to see their children and grandchildren who live in Edinburgh and London.
Maggie continues to love Geoff's generosity. ''He's always very supportive if anybody has a problem. Not just for me and the family, but to anybody. You can always go to Geoff if you have a problem you feel you can't fix yourself.''
Maggie loved university life and was happy on campus, feeling lucky to have met her friends. Geoff believes that Leicester made his scientific and community work possible, leading to worldwide recognition. He calls Leicester "the acorn of my success''. But above all, both agree that the biggest gift they got from studying at Leicester was each other.