Roy Bailey, BA Sociology, 1963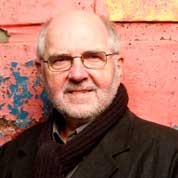 Originally planning to study Economics, Roy Bailey met an incredibly inspirational lecturer Professor Norbert Elias, who inspired him to transfer to Sociology at the university in 1963.
During the emergence of the British folk revival, Roy was studying at the University of Leicester. This revival helped spark his passion for the genre. During his time here, he was invited to form the Leicester Folk Song Club, as well as perform at many other festivals across the country. Roy's music career really kicked off after his graduation, beginning with his invitation to perform at the Lenzburg Festival near Zurich. This invitation came from a Leicester graduate who was teaching English at the University of Zurich and who had been a contemporary of Roy's at Leicester.
Despite Roy's commitment in his academic career lecturing in Sociology, he still managed to successfully juggle two careers. He travelled all over the world performing his folk music, but a personal stand out gig for him was here, in the UK, at the Royal Albert Hall in 1998.
In 2003, Roy won the best live act at BBC Radio 2 Folk Music Awards for his show with Tony Benn, 'The Writing on the Wall', where he helped to place an emotional element into politically intellectual experiences, creating a wider engagement in political issues.
Roy's primary advice to those interested in music alongside academia is to remember that getting a degree is the primary responsibility whilst at university. He understands and highlights that it isn't often for people to be lucky enough to perform in such a niche genre, like folk, whilst supporting themselves in an academic career too.