Kian Bakhtiari, Sociology BA, 2013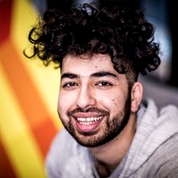 It's hard to believe that Kian's first choice of degree subject could have been anything other than Sociology.
Since graduating in 2013, his successful career in marketing has been largely defined by the academic knowledge he gained during his course, combined with a desire to create a better future for all. Kian's determination to mix business with social conscience is making waves in the industry - for all the right reasons.
"Initially, I wanted to study International Relations", he said, "but I didn't get the grades I needed. So, I ended up choosing Sociology - a subject I knew next to nothing about at the time."
Despite it being his second choice, Kian soon found that he had a natural affinity for the specialism. His interest in the subject quickly grew - to the extent that he would spend his nights reading the works of academics such as Karl Marx, Michel Foucault, Edward Said and Noam Chomsky, among others.
"Studying a variety of different modules under the tutelage of some of the world's most respected scholars provided me with a comprehensive understanding of the very systems and structures which govern our daily lives" Kian said. "It gave me the perfect opportunity to seek knowledge and feed my curiosity. My three years at Leicester definitely formed my outlook on work and life."
Upon graduating, Kian worked as a researcher in the Houses of Parliament, looking at the impact of austerity measures on local communities.
In 2016, he became a founding member of 'Fortysix' – a Dentsu Aegis Network agency using the power of young diverse perspectives to solve problems. During his two years as Head of Strategy he has been listed as #19 in The Financial Times Top Future Leaders and DIMA 50 Male Advocates of Equality in Marketing and Media.
Now, Kian is venturing out on his own, and has recently started 'The People'- a socially conscious platform that connects social impact projects with potentially allied brands.
"It's a bit like Tinder" Kian explained, "but we enable brands and good causes, rather than people, to connect, collaborate, and create shared value. Our mission is to bridge the gap between business and society based on the UN's 17 Sustainable Development Goals.
"It's mutually beneficial – it allows social projects to gain from the wealth of knowledge, expertise and resource locked within most international brands. Equally, brands get the opportunity to embed new thinking, products, and strategies into the core of their business, creating a win-win scenario for people and the planet."
As if that weren't impressive enough, an academic report Kian is currently writing, entitled 'Creativity for Good', will have input from Noam Chomsky, who has been described as "the father of modern linguistics". Kian's come a long way from studying his works in bed as a student!
"Dreams really do come true", he said. "Studying Sociology turned out to be the best decision I ever made."