Elliot Pfebve, MBA Business Administration, 2012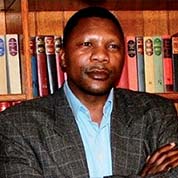 Elliot Pfebve graduated from the University of Leicester with an MBA in Business Administration in 2012. Elliot is currently the EU Envoy (Ambassador) for MDC (Movement for Democratic Change). As an adviser for the MDC President, and former Prime Minister of Zimbabwe, Dr Morgan Tsvangirai on International Affairs, he focuses on EU bilateral relationship.
In 2014 Elliot attended the EU/AU Summit in Brussels, with Former President of Botswana, Festus Mogae. Attending forums and summits on Africa - EU bilateral relations, Elliot explains how his MBA in Business Administration has helped him to grow in his career, ''I have to be acquainted with socio-economic issues on both sides of the continents. The MBA qualification I gained from the University of Leicester has given me competitive advantage to articulate and impress on political and economic issues.''
Currently a lecturer in Management and Leadership at Coventry University, Elliot's academic role involves lecturing and giving tutorials in Leadership, Business Strategy, Strategic Marketing, Organisational Development and Organisational Behaviour. He also teaches part time in Corporate Finance, and alongside this is the West Midlands STEM (Science, Technology, Engineering and Mathematics) Ambassador, illuminating students to reach their potential in becoming future scientists, engineers and mathematicians.
Elliot is also member of the Royal African Society, a think tank of African Affairs, which advises Westminster party parliamentarians on African bilateral relations, engagements and conflict resolutions, and was previously the MDC Zimbabwe MP Candidate for Bindura. He has been the preferred and official MP candidate since 2000.
Starting at the age of just 27, Elliot was appointed as one of the founders of the Movement for Democratic Change. Since then, he has been campaigning for democracy and the rule of law, including taking President Robert Mugabe to US Federal court in 2000 and 2001. He has attended numerous forums and summits in Lisbon, Geneva and America, and receives annual invitation to EU forums and seatings in Brussels.
The University of Leicester's global recognition motivated Elliot to enrol onto his course. He explains, '' I wanted my qualification to give me an edge in politics. I was interested in the micro and macro economic perspective, finance, leadership, and policy marker. Furthermore global recognition was very important to me and the fact that University of Leicester is one of the very few universities in UK to offer an MBA under the banner of a global brand was the pull. As a politician, globalisation is a sensitive issue and any qualification has to be internationally convertible.''
If you would like to get in touch with Elliot, he is reachable across a number of platforms: LinkedIn, YouTube, Blog and Email.