Pravin Chahande, Master of Business Administration; 2012
What is your current or most recent job title?
Senior Adtech Manager.
Please tell us a brief summary of your career to date since graduation
I started my career with an internship at Audit Commission. As this was a yearlong paid internship, it was difficult to achieve, but the first step is always the hardest and led me to where I am today. Following this, I spent the next six years of my career at AdSpruce. Here, I worked my way up to the Head of Advertising role where I supervised over fifty global campaigns for my clients. I then started to specialise in the more technical side of advertising and spent a year perfecting these skills as a Technical Product Manager at DAZN, after which I moved to my current role as Senior Adtech Manager at PokerStars. It was through pursuing the technical niche that I was able to reach this senior level in my career and through constantly staying on top of the latest advances in the advertising sector.
What were the biggest challenges you have faced within your education and career history? What advice would you give to anyone in a similar position?
Finding my first job as an intern was one of the most difficult challenges I have faced; at that stage, you have no experience behind you, so you're reliant on your knowledge gained from study and wider research. You're also so nervous that it's quite easy to forget everything as soon as the interview comes along.
I also found that finding the right career path for myself within advertising was a struggle. Thankfully, I found it in the technical side of advertising but it took me quite a while to discover this.
For young professionals that find themselves in a similar situation, I'd advise them to look for careers that utilise their existing skills. Not only will it be a lot easier to find something this way, it will also make their job far more enjoyable if they're doing things they like and are good at. Forcing yourself to try and be good at something that doesn't come naturally is an uphill battle in an already difficult job market.
What were your motivations for enrolling on a course at the University of Leicester?
Completing an MBA was the best step for my career after completing my Engineering Degree and four years of work experience. I chose the University of Leicester due to its reputation and the specific layout of the course I wanted to take.
How did your course and your experience in Leicester aid your personal and professional development?
Through my experience at Leicester, I learnt to become a good researcher, as this was fundamental when completing assignments that led up to the final dissertation. I find that in my career, good qualitative and quantitative research is essential before beginning any project in order to produce well-rounded solutions. And this extends beyond my professional life through to my personal life; I am well known for being the person that will research everything beforehand.
What would you tell your younger self if they were just starting out at the University of Leicester?
I would tell him to take advantage of all the incredible experts on hand to guide students through the learning process. This is one thing I didn't make the most of, and if I had my time again, I would ask all the questions, attend all the extra study sessions and really soak up all the knowledge that Leicester has to offer.
Elliot Pfebve, MBA Business Administration, 2012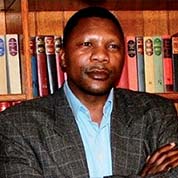 Elliot Pfebve graduated from the University of Leicester with an MBA in Business Administration in 2012. Elliot is currently the EU Envoy (Ambassador) for MDC (Movement for Democratic Change). As an adviser for the MDC President, and former Prime Minister of Zimbabwe, Dr Morgan Tsvangirai on International Affairs, he focuses on EU bilateral relationship.
In 2014 Elliot attended the EU/AU Summit in Brussels, with Former President of Botswana, Festus Mogae. Attending forums and summits on Africa - EU bilateral relations, Elliot explains how his MBA in Business Administration has helped him to grow in his career, ''I have to be acquainted with socio-economic issues on both sides of the continents. The MBA qualification I gained from the University of Leicester has given me competitive advantage to articulate and impress on political and economic issues.''
Currently a lecturer in Management and Leadership at Coventry University, Elliot's academic role involves lecturing and giving tutorials in Leadership, Business Strategy, Strategic Marketing, Organisational Development and Organisational Behaviour. He also teaches part time in Corporate Finance, and alongside this is the West Midlands STEM (Science, Technology, Engineering and Mathematics) Ambassador, illuminating students to reach their potential in becoming future scientists, engineers and mathematicians.
Elliot is also member of the Royal African Society, a think tank of African Affairs, which advises Westminster party parliamentarians on African bilateral relations, engagements and conflict resolutions, and was previously the MDC Zimbabwe MP Candidate for Bindura. He has been the preferred and official MP candidate since 2000.
Starting at the age of just 27, Elliot was appointed as one of the founders of the Movement for Democratic Change. Since then, he has been campaigning for democracy and the rule of law, including taking President Robert Mugabe to US Federal court in 2000 and 2001. He has attended numerous forums and summits in Lisbon, Geneva and America, and receives annual invitation to EU forums and seatings in Brussels.
The University of Leicester's global recognition motivated Elliot to enrol onto his course. He explains, '' I wanted my qualification to give me an edge in politics. I was interested in the micro and macro economic perspective, finance, leadership, and policy marker. Furthermore global recognition was very important to me and the fact that University of Leicester is one of the very few universities in UK to offer an MBA under the banner of a global brand was the pull. As a politician, globalisation is a sensitive issue and any qualification has to be internationally convertible.''
If you would like to get in touch with Elliot, he is reachable across a number of platforms: LinkedIn, YouTube, blog and email.
Dr Othman Alyafei, Master of Business Administration (DL), 2013
What is your current or most recent job title?
Senior Manager Asset Integrity.
Please tell us a brief summary of your career to date since graduation
I worked as Senior Manager of offshore operations in the oil and gas industry until 2021, and then I took over the position of Senior Manager Asset Integrity. More recently, I obtained my Doctorate in Business Administration from the University of Northampton.
What were the biggest challenges you have faced within your education and career history? What advice would you give to anyone in a similar position?
I did my study via Distance Learning, so I had to exert extra effort taking into consideration my work and family commitments. Therefore, I had to establish an effective plan to ensure better time management between study, work and family life.
What were your motivations for enrolling on a course at the University of Leicester?
I wanted to learn more about different aspects of business management in order to enhance my skills at the workplace.
How did your course and your experience in Leicester aid your personal and professional development?
At a personal level, I became a different person having better analytical skills to realise the surrounding issues and establish an action plan to deal with any arising issues. At a professional level, I was equipped to tackle any concern or problems at the workplace using scientific research as learned from my MBA study
What would you tell your younger self if they were just starting out at the University of Leicester?
I would advise myself to take all possible opportunities to enhance my knowledge.
Kian Bakhtiari, Sociology BA, 2013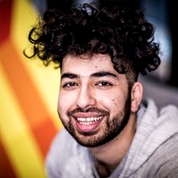 It's hard to believe that Kian's first choice of degree subject could have been anything other than Sociology.
Since graduating in 2013, his successful career in marketing has been largely defined by the academic knowledge he gained during his course, combined with a desire to create a better future for all. Kian's determination to mix business with social conscience is making waves in the industry - for all the right reasons.
"Initially, I wanted to study International Relations", he said, "but I didn't get the grades I needed. So, I ended up choosing Sociology - a subject I knew next to nothing about at the time."
Despite it being his second choice, Kian soon found that he had a natural affinity for the specialism. His interest in the subject quickly grew - to the extent that he would spend his nights reading the works of academics such as Karl Marx, Michel Foucault, Edward Said and Noam Chomsky, among others.
"Studying a variety of different modules under the tutelage of some of the world's most respected scholars provided me with a comprehensive understanding of the very systems and structures which govern our daily lives" Kian said. "It gave me the perfect opportunity to seek knowledge and feed my curiosity. My three years at Leicester definitely formed my outlook on work and life."
Upon graduating, Kian worked as a researcher in the Houses of Parliament, looking at the impact of austerity measures on local communities.
In 2016, he became a founding member of 'Fortysix' – a Dentsu Aegis Network agency using the power of young diverse perspectives to solve problems. During his two years as Head of Strategy he has been listed as #19 in The Financial Times Top Future Leaders and DIMA 50 Male Advocates of Equality in Marketing and Media.
Now, Kian is venturing out on his own, and has recently started 'The People'- a socially conscious platform that connects social impact projects with potentially allied brands.
"It's a bit like Tinder" Kian explained, "but we enable brands and good causes, rather than people, to connect, collaborate, and create shared value. Our mission is to bridge the gap between business and society based on the UN's 17 Sustainable Development Goals.
"It's mutually beneficial – it allows social projects to gain from the wealth of knowledge, expertise and resource locked within most international brands. Equally, brands get the opportunity to embed new thinking, products, and strategies into the core of their business, creating a win-win scenario for people and the planet."
As if that weren't impressive enough, an academic report Kian is currently writing, entitled 'Creativity for Good', will have input from Noam Chomsky, who has been described as "the father of modern linguistics". Kian's come a long way from studying his works in bed as a student!
"Dreams really do come true", he said. "Studying Sociology turned out to be the best decision I ever made."
Tom Spurgin, English and History BA, 2013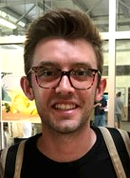 From presiding over Leicester University Chorus, to joining world-renowned Philharmonia Orchestra as their Audience Development Manager, Tom Spurgin's career has really taken off. And soon, Tom will be heading back to Leicester for a large-scale music community engagement project he has been leading on. The project, The Virtual Orchestra, presented by the Philharmonia Orchestra, comes to Leicester during October and November and offers an up-close experience of a symphony orchestra through virtual reality and immersive technology.
Tom said: "I actually met the Philharmonia as a student in Leicester thanks to the partnership with the University, and they offered some light work experience and workshop opportunities during my time as a student. I've since worked in orchestras and music charities in London.
"The Virtual Orchestra project uses Philharmonia Orchestra's digital assets (including virtual reality and large-scale digital installations) to engage with the least culturally engaged individuals, groups, and communities, breaking-down barriers to accessing music and the arts.
"Engaging people through digital experiences in partnership with local arts organisations and charities is at the heart of The Virtual Orchestra's concept. By inviting people to experience music outside of the concert hall, and into public spaces and the local community, they can witness orchestral performances in a whole new light.
"I'm working very closely with organisations across Leicester, including the University of Leicester, Leicester-Shire Schools' Music Service, Soft Touch Arts, Attenborough Arts Centre, Bullfrog Arts, Phoenix, and De Montfort University to reach new groups and audiences and inspire the start of their orchestral and cultural journey."
The free 6-week installation will run from Monday 8 October – Saturday 17 November 2018 at the newly refurbished ISKCON CENTRE, Granby Street, Leicester, LE1 6EJ. The Virtual Orchestra will transform the centre into a 10-room installation, showcasing what happens behind-the-scenes in the Philharmonia as the Orchestra perform Holst's The Planets.
Through virtual reality headsets and headphones, visitors will be whisked to London's Royal Festival Hall to see a 360-degree performance, 3D audio and visuals from inside the orchestra. Alongside this, guests will be able to play along with the Orchestra's percussion section, and join a guided tour of the installation led by music specialists.
In addition, the orchestra will provide a series of family, community and school workshops with hands-on activities for all ages. A fringe programme will be delivered by local groups, including Bull Frog Arts, Leicester-Shire Schools' Music Service, De Montfort University and the Philharmonia Orchestra. Activities such as busking, iPad compositions and performances with themes related to Holst's The Planets, will take place around the city.
Thomas Wheatley, Chemistry MSc, 2013

Thomas graduated from Leicester with a Master in Chemistry in 2013. He now works as a senior analytical scientist for the pharmaceutical company AstraZeneca, and is currently on secondment as a project manager.
His role at AstraZeneca involves developing analytical methods for the characterisation and control of medicines, collecting data for regulatory submissions, and working globally with external partners to develop effective manufacturing processes.
"My studies at Leicester laid the foundations for my career to date", explained Thomas, "the technical skills I obtained, as well as the soft skills learnt while at University, still help me today in the workplace. Every day I use the knowledge learnt in my degree to assist me in my activities at work."
But, where did Thomas's interest in Analytical Chemistry begin?
"I did some analytical modules at Leicester and really enjoyed them", he said. "I was also quite inspired by my personal tutor at the time, and the research he was involved with, so I applied to be in his research group for my MChem project. I think that pushed me towards the analytical chemistry path. When I worked in that group I was surrounded by colleagues, PhD students and postdocs who were all analysts, or working on analytical methods, so that really drew me towards it."
Last month, Thomas returned to Leicester to lead a number of careers-focused events. He shared his insights on the pharmaceutical industry with current students, with the aim of equipping them with industry knowledge, and ultimately increasing their employability in this sector. Industry professionals joined Thomas taking part in these workshops.
"When we're recruiting for graduate roles, we find that there are really good candidates with a lot of technical skills, but they don't have the industry context, so they don't necessarily know how to apply their skills to an industrial setting", Thomas said. "They get great knowledge in Chemistry from the University, but it's hard to know how you apply that without engaging with someone in industry."
His advice to final-year students? "Put the hours in. It sounds obvious, but your final year is very fundamental and there's a lot to do. You've got to manage your course whilst completing job applications. Also, apply to everything. Everything that you have an interest in, apply to it, and put your all into the application."
Thomas also stressed that finding the right graduate role is as much down to perseverance as ability. "Resilience is the key word", he said, "I was rejected after sending out many applications, and the feedback was 'great CV, too many candidates', and it's true. You've got to make yourself stand out in addition to having a great degree - whether it be extra-curricular activities, volunteering, something you've proactively done that demonstrates that you're passionate enough to put yourself out there and get experience."
As for Thomas's lasting memory of Leicester, it's the people. "Those relationships you build are very important", he said, "the best friends I have made are from my time at University, me and my group of friends still all stay in touch and meet up every few months. It was a great four years at Leicester."
Benjamina Ebuehi, BSc Economics, 2015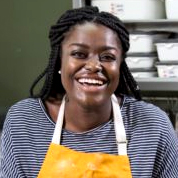 Economics alumna appeared on the seventh series of the popular baking show, Great British Bake Off in August 2016.
Benjamina impressed Mary Berry and Paul Hollywood with her culinary prowess, as one of the 12 contestants in the 2016 series of The Great British Bake Off. 23-year-old Benjamina Ebuehi, graduated from our University in 2015 with a first class degree in Economics with a Year Abroad.
Benjamina, who describes her twin sister as one of her biggest critics, began baking at the age of 14. She likes to combine classic, simple flavours with a fresh, modern style and takes pride in the presentation of her bakes.
She faced three challenges per episode on Great British Bake Off: a signature bake, a technical challenge, and a show-stopper.
Benjamina decided to study at University of Leicester in order to escape from the city life she had been brought up in. ''I was born and bred London. It was all I knew and I think it's so easy to get stuck in that London bubble, believing anything and everything exciting only happens there. I just wanted to explore. Leicester is a great middle ground. And the course really attracted me, it was great.'' Visiting Madison's Café on London Road for a late night cake fix was a favourite of Benjamina's in Leicester, along with St Martin's city centre café.
Alongside her busy schedule Benjamina runs Carrot and Crumb, a cooking blog she regularly updates with recipes for her readers. The blog also gives readers secret tips on re-creating her delicacies. ''The first thing I learnt how to cook properly was carrot cake so I have mastered that over the years. The spiced carrot cake I cook is always on demand with friends and family. The very first cake I baked on Great British Bake Off was a pistachio and cardamom lemon drizzle. It holds the memories I have of the first thing I baked on Great British Bake Off. This means a lot of love and happiness always goes into baking this cake. The judges really loved it which was a bonus!'' Great British Bake Off was judged by celebrity chef Paul Hollywood and British food writer, and television presenter Mary Bell in 2016. Benjamina's favourite judge on the show was Mary, as she felt she could always find something positive to say in her baking, even if it was a disaster. Although Paul was a little tougher, she felt his criticism was helpful.
Rachel Holland, President of the Students' Union, said: "We were really excited to see Benjamina on Bake Off – our second Leicester graduate – and as a Union will be following her progress through the show intently. We have a number of bakers in the SU team, and hope our students will be just as inspired by Benjamina as we are!"
You can follow Benjamina across social media @bakedbybenji, and subscribe to her blog Carrot and Crumb for delicious recipes.
Lucy Hatton, BSc Criminology, 2017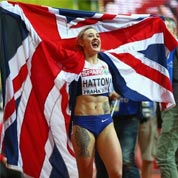 Lucy Hatton graduated from the University in 2017 with a BSc in Criminology. Awarded a sports scholarship upon enrolling at the University in 2014, Lucy is also a professional British track and field athlete competing in the hurdles.
Lucy achieved outstanding athletic performances throughout her time as a junior athlete, which continued as she started to make an impact in the senior ranks by making it through to the finals of the 60 metre hurdles at the 2012 British Indoor Athletics Championships. The following year she was a national finalist both indoors and outdoors, ending that year with a best of 13.62 seconds in the 100 metres hurdles. More recently she was crowned silver medallist at the 2015 European Athletics Indoor Championships.
Although flourishing in her career as a hurdles athlete, Lucy explains her motivations for enrolling onto a course at the University of Leicester: "I never wanted to put all of my eggs in one basket. However, I knew that I wasn't interested in any other path in the sports industry, other than being an athlete. I was never drawn to becoming a coach, teacher, or physio, for example."
"Criminology has always been a subject that I felt fascinated by, and I found a way to combine both sport and these studies together. My dissertation was on sexual harassment in elite female sport, and I have now found a platform that I want to continue in."
"My main motivation for studying for a degree was for the experience and academic qualification. I knew that having a degree would be invaluable to me later on in life."
Lucy is now looking to continue her academic studies and enrol onto a master's course.
She is, of course, continuing to pursue her passion and career as an athlete in hurdles. With lots of forthcoming opportunities in the world of sports, Lucy has lots to look forward to and work towards. She will be training to compete in the World Championships, Commonwealth Games, and European games.
With her athletics career going extremely well, alongside the academic route she has also decided to embark upon, Lucy gives advice for anyone who is looking to enter a similar path to her.
"I would always encourage anyone to do what they love. I believe that passion and dedication go hand in hand. I have had more push backs in my athletic career, but I truly believed, and still do believe, that this was the path I was supposed to lead. Opportunities are everywhere, you must throw yourself at everything possible and never taking anything for granted."
Attending alumni events as a platinum sports scholar has been a highlight of Lucy's time at the University of Leicester, especially attending the 2017 Alumni Association Standing Committee Black Tie Dinner, where she met Sir David Attenborough.
She looks forward to attending more events in the future.
Something Lucy is also extremely proud of, is holding the Athletics BUCS (British Universities and Colleges Sport) record with the University of Leicester next to her name.
Roger Achkar, Doctorate of Social Science, 2019
What is your current or most recent job title?
Founder and Director General of the Global Waste Cleaning Network (GWCN).
Please tell us a brief summary of your career to date since graduation
I graduated from Leicester in 2019. The next year, I founded a charitable incorporated organisation in the UK by the name of Global Waste Cleaning Network (GWCN). I was able to drive GWCN to become in just three years the world's largest and most widespread environmental and energy network with reach to 187 countries and focus on Environment Protection and Green Energy; subjects which are of serious importance to the habitants on planet Earth.
What were your motivations for enrolling on a course at the University of Leicester?
I initially had an electrical engineering degree from Lebanon, an engineering management degree from France and an MBA from the UK. I needed to complete my education with a professional doctorate that would be concentrated on the competitive advantage of the organisation such as its Human Capital.
Instead of going for a DBA, I chose the social science subject to understand the fundamentals of social research and explore the pedagogies of workplace learning, and the concepts of globalisation, convergence and divergence among others. The University of Leicester was an obvious choice for this doctorate which I sought as it is one of UK's top research universities, and is well-known for its social science doctoral degree.
How did your course and your experience in Leicester aid your personal and professional development?
The education at Leicester helped me understand the importance of being reflective about my work. I now give more attention to identifying where my research work sits within the overall literature and giving the reader a sense of the way in which my research makes a contribution.
The experience at the University of Leicester has also helped me in my daily role at GWCN, as I supervise researchers and provide guidance across academic and research programs.
What would you tell your younger self if they were just starting out at the University of Leicester?
I would advise anyone starting with the DSocSci at Leicester to pay good attention at the University's expectations at doctoral level, how these are different from those at master's level and what doctoral dissertations should be like.