Anietie Isong, MA Communications, 2005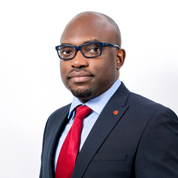 As an executive speechwriter, Anietie Isong's current role involves writing high quality, personalised speeches to convey appropriate company messages and advance strategic vision. Anietie tells us 'It is an exciting role. One day I might be writing about the future of oil and gas, and the next day I am writing about local content or job creation'.
Having previous experience as a speechwriter for a multinational oil company helped Anietie in the recruitment process for his current role with Saudi Aramco, the state-owned oil company of the Kingdom of Saudi Arabia and a fully integrated, global petroleum and chemicals enterprise.
Anietie's motivations for studying at the University of Leicester stemmed from the reputation of the Department of Communications. Having a keen interest in the role of communication in our society and how new forms of media started to influence traditional media, he was also attracted to the diversity of Leicester city.
The range of areas and possibilities of working in communications spreads far afield, however Anietie would like to remain in the field of speechwriting, after already gaining experience as a journalist and public relations manager.
In the world of communications, it has been important for Anietie to be versatile and keep with trends. 'Social media is an emerging field that has radically changed the way people communicate. If you want to be a journalist or go into PR, you need to understand social media.'
After completing his MA, Anietie was offered a job at the University as the PR Manager for the Students' Union. As well as handling all PR activities for the Union, Anietie was responsible for organising the Freshers' Fair. He believes this role helped him launch his career in the world of public relations.
Some of Anietie's best friends, are those he met at Leicester. Whilst studying here, he discovered that he is a great team player. He learnt how to work well with people through group assignments and projects and also rediscovered his writing skills.
Anietie recalls how wireless and mobile internet was not a common thing when he was a student. 'There was no smart phones to check emails, and my hall of residence, at the time had no internet connection. I was always using the computer rooms in Percy Gee building, the library or the Charles Wilson building. But it was great fun.'
In the ever-changing 21st Century, it feels as though we could wake up tomorrow and the way we communicate could be sent on a completely new spin. With an MA in Communications and a strong repertoire of skills and experience on his CV, Anietie Isong clearly stays ahead of his own game, resulting in a successful career in public relations and communications and only a continuing hopeful future to say the least.