Dr Mark Sims Memorial Award For Public Service Winner (2022)
Shailesh Shinde (Advanced Mechanical Engineering with Management Industry MSc, 2018)
In response to the COVID-19 pandemic, Shailesh and a group of University alumni established 'PPE For Heroes' to help provide free 3D printed face shields to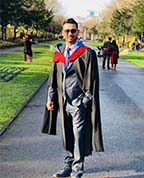 frontline staff.
Shailesh led the initiative contacting alumni in the UK and India, establishing a network of 50 volunteers with nine 3D printers. He also started a crowdfunding campaign raising over £1,500 in the UK and ₹50,000 (INR) in India to ensure they could buy raw materials, as well as establishing a website and social media platforms to take requests for face shields, mainly from care homes.
The initiative attracted local media attention and was featured on BBC Radio Leicester, as well as in the Institution of Mechanical Engineers newsletter.
Shailesh's determination and professional and alumni network enabled him to have a positive impact on society in what was a challenging and frightening time for many.
Fellow alumni supporting Shailesh and this initiative include:
Milan Kerung (Advanced Mechanical Engineering and Management MSc, 2018)
Shatabdi Dutta Roy (Software Engineering for Financial Services and Industry MSc, 2017)
Shashidar Ette (Advanced Software Engineering with Industry MSc, 2018)
Tony Kenny (Web Applications and Services MSc, 2020)
Liam Jordan (Psychology and Cognitive Neuroscience BSc, 2021)