Alumni Association Graduating Student of the Year Award Winner (2022)
Megan Parks (Physics with Space Science, 2022)
Megan is Co-President of the University's astronomical society, Astrosoc, and successfully secured funding for 22 of its members to attend the prestigious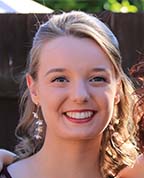 UKSEDS National Student Space Conference.
As part of the fourth-year research project, Megan worked with members of the Jupiter Icy Moons Explorer (JUICE), a European Space Agency (ESA) mission, at the University. Megan was tasked with developing an algorithm to assess two proposed trajectories, investigating the scientific opportunities offered by the different mission plans, and evaluating whether spacecraft resources, power and data rate, were capable of meeting the scientific requirements of several different instruments. This was a challenge worthy of spacecraft planners in the ESA, yet Megan made progress with speed and has been performing at a level that would be impressive for a 1st year PhD student.
In the summer of 2021, Megan was awarded an extremely competitive internship with ESA with applications from across 20+ countries. Working with a team at ESTEC, Megan developed a citizen-science project to search for satellite trails in Hubble Space Telescope observations. Her contribution impressed her advisors and a paper is about to be submitted to a peer-reviewed journal on the outcome. Megan has been invited to represent the team at the European Astronomical Society meeting in Valencia, Spain, this summer.