Alumna / Alumnus of the Year Award Winner (2022)
Jeffery Boakye (English BA, 2003)
Jeffrey is an author, broadcaster, educator and journalist with a particular interest in education, race, masculinity and popular culture, using the arts to engage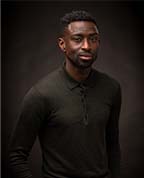 his audience and to examine complex and difficult issues.
Jeffrey is an acclaimed author of books including Hold Tight; Black, Listed; Musical Truth and most recently, I Heard What you Said, and co-author of What is Masculinity? Why does it Matter? and Other Big Questions. Jeffrey's books cover a range of topics from his experience as a black student and teacher, to exploring Black British history through music. Jeffrey also has upcoming books including Musical World, a follow-up to Musical Truth, as well as a children's story Kofi and the Rap Battle Summer – the first of three books in a new series that features a young, black protagonist. Several of his books are aimed at children – empowering a new generation of readers and providing diversity to children's literature.
As well as being a journalist who writes for The Guardian, The Observer, The Financial Times and GQ magazine, Jeffrey co-hosts BBC Radio 4's Add to Playlist.
Having written his first three books whilst working full-time as a teacher shows that it is possible to succeed in the tough world of publishing if you have a distinct voice and something important to say.