David Cousins, Lifetime Achievement Award winner (2020)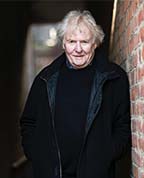 What have you been doing since you won the Lifetime Achievement Award in 2020?
I was thrilled to be presented with the Lifetime Achievement Award in 2020 for my work as a songwriter and musician, after having been the principal songwriter and leader of Strawbs for over fifty years. Unfortunately, two weeks after being presented with the Award the first lockdown started, but the band and I were determined to write and produce a whole new Strawbs album. The first song wrote itself – 'Strange Times', and the album 'Settlement' was written and recorded remotely and released by Cherry Red Records in February 2021, reaching No 2 in the Official Folk Album charts and No 3 in the Official Progressive Album charts!
What does winning an alumni award mean to you?
Winning an alumni award is recognition that my music has resonated around the world and is appreciated by people whose opinions I value and respect.
What made you choose Leicester and what has studying at Leicester enabled and inspired you to do since graduation?
The promotional brochure from the University was far more interesting than any of the others I considered. I was convinced that Leicester was where I wanted to study as their spirituality about the area was something that I had not experienced before, having lived in West London. I deliberately chose the general degree and I am grateful to The University of Leicester for providing such broad subjects, as the breadth of knowledge that I gained from one-year courses in Psychology and British Archaeology broadened my horizons.
What is the one skill that the University helped you develop and which you have continued to use?
To this day I still use the mathematical disciplines in complex spread sheets not only for cash flow projections but also for planning social projects for The Commonwealth Medical Trust, of which I am a trustee. The structured discipline has also been beneficial in the methodology of song writing, album planning, and tour budgeting.
Reflecting on your time at University – what are you most grateful for?
When I reflect on my time at The University of Leicester, I am most grateful for the social experience of developing friendships with people who were far more mature than myself.
What was your proudest moment during your time at Leicester and what do you continue to be proud of when thinking about the University of Leicester?
I have fond memories of becoming the first ever chairman of the newly formed University Folk Cub and my proudest moment was organising the University's first Folk Festival.
What advice do you have for anyone who would like to enter a similar work role to you?
I advise anyone who wishes to have a career within the music industry to get the best music business lawyer you can afford before signing any contract. I wish I had taken my own advice!
What did you discover about yourself whilst studying with us?
During my time at the University of Leicester, I learned to look beyond the straightforward direct answer to any question and think laterally, giving me the grounding and confidence that I have relied on ever since. For that, I am eternally grateful.
What ambitions do you have for the future?
I aspire to write the songs for another Strawbs album in the future.