Shoes Unboxed at Wakefield Museum
Here at Wakefield Museums & Castles, we had the pleasure of hosting student, Sarah Verreault, who spent eight weeks with us working on our Shoes Unboxed project.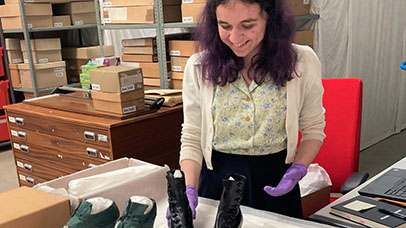 Wakefield Museums & Castles' collection contains over 111,000 fascinating objects that tell the story of the Wakefield district from the distant past to the present day, and our collections cover the social history and archaeology of the district.
The Shoes Unboxed project involved auditing, repacking, researching, and creating a display from over 250 pairs of shoes in our collection. Sarah completed a locations audit to verify the presence of each item at its listed location, and updated the information on our collections database to include a box number. Sarah also brought each database record up to inventory standard and repacked storage boxes to conservation-standard using new acid free tissue. This formed part of a larger-scale audit project at our store.
Working with our collections database, MODES, is no mean feat but Sarah took to it very quickly and was soon adept at unpicking fiddly numbering discrepancies. Her work on this audit has been invaluable, ensuring that all the shoes, boots, sandals, and slippers in our collection are properly catalogued and stored.
Another outcome for the project was for Sarah to identify a great story from the objects she audited, and to work with our curator, John Whitaker, and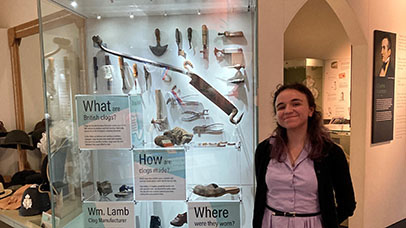 exhibitions team, Claire Radcliffe and Andrew Marsland, to create a display in the 'Dress to Impress' case at Wakefield Museum. Sarah chose to highlight the story of British clogs, looking at who wore them, why they were so popular and versatile, and exploring the story of a local maker, W. Lamb.
I was particularly impressed at the way that Sarah brought her knowledge of costume history into the project. She has enriched our documentation not only through bringing it up to SPECTRUM 5.0 standards, but in the details she noticed and wrote about, such as replacement buttons, mends and manufacturing information.
It was fantastic to have Sarah working with us. She completed a bulk of work that we simply would not have had the capacity to do otherwise, whilst bringing a fascinating story from the collection to light, sharing it with the team and with the public through the display and social media.
Janna King
Documentation Assistant, Wakefield Museums and Castle
(Left Image: Sarah working with the shoe collection at Wakefield Museum, Right Image: Sarah researched British clogs)